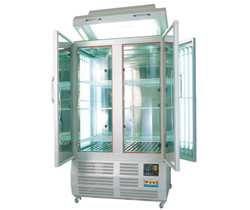 BioGene offers Giant Growth Chamber with a difference, a flexibility to have different colored lights ,built in Shaker, choice of variable LUX intensity, with latest Human Machine interface, True Color Display with graphics and Microprocessor based Programmable Controls. BioGene Plant Growth Chamber helps de-mystify challenges by modulating the growth factors conducive to implant Foreign Gene, Plants Transposable Genetic elements which affect Temperature Humidity and Light Spectrum to activate the GAP detection signals.
Applications
Features
Control
Construction
Specification
BioGene GIANT GROWTH CHAMBER is widely used in research centers and major universities
Research Centers

Plant Engineering

Plant Cultivation

Genetic modification

Agro Pharmacy Industries

Agro Industries

Plant Fertility & Hybridization

Universities
Giant Growth Chamber for large industrial and research application.

Universal Application of Biotechnology Agriculture, Electronics, etc.

Required temperature, humidity, air are coming from the shelves and lights from the each ceiling, which is designed by Bio-Gene technology.

Perfect uniformity air circulation chamber structure, with large volume.

Filtered clean air is supplied into the chamber for culture and growth

Multi-Functional program controller that integrates control, monitoring recording

All in-One Controller that Integrates Monitoring and Recording Functions

Reliable Hardware and Software

PUF insulation, CFC Free are some other beautiful features of our product.

Touch Screen display with HMI


WiFi & LAN based data Communication
Humidity: 5 to 90% RH ± 3RH.

Temperature 5°C to 60°C

Illumination 10,000 to 35,000 Lux

Digital Microcontroller

Timer cyclic: 0 to 24 hrs day night

Standards : ISO,EN, CE, Electro magnetic

MDD :- 93/42/EEC

EN 61000-6-1 : 2001

IEC 60068:2-30

Electromagnetic Compatibility Directive (89)/336/EEC)

EN: 60101, ISO, CE
Bio Gene Outer wall made of Mild Steel Sheet duly painted and Inner wall made up of heavy gauge Stainless Steel 304 Grade.

Besides Outer double walled door, a full view Inner glass door allows inspection of test samples without disturbing the inner chamber conditions.

Temperature range from 5°C to 60°C ± 1°C.

Microprocessor based Digital Temperature indicator cum controller so as to set two different temperatures for day and night.

Illumination with fluorescent tubes/LED accounts for artificial day light.

CFC free ECO Friendly compressor

Voltage : 220 to 240 volts AC 50 Hz single phase

HEPA filtered clean air is supplied into the chamber for culture and Growth Multi functional program controller that integrates control, Monitoring recording

All in one controller that integrates Monitoring and Recording function

Control and Measurement data acquisition and monitoring via computer interface RS 232.

CFC free is some other beautiful features of our product.
DESCRIPTION

BTI-GGC-15K

BTI-GGC-18K

BTI-GGC-20K

BTI-GGC-40K

Temperature Range

5°C to 60°C.

Temperature Control

+0.5 deg.

Temperature Stability

≤±1ËšC

Temperature uniformity

+1 deg.

Temperature sensor

3 wire RTD

Humidity range

5% RH to 90% RH

Humidity Stability

±2% or Better

CO2 Range (optional)

200 to 1000 ppm.

Humidity Sensor

Capacitive

Light

0-25000 LUX (35000 LUX optional)

Blue, Green, Red, Far Red (optional)

100-150 Micro mol light intensity.

Interior construction;

Stainless steel 304

Exterior Construction

CRCA Powder coated.

Chamber Door

Glass Sheet door with complete visibility of components.

Option for electrical interface

Standard connector

Trays

Stainless Steel 304 perforated.

Electrical

220 to 240 volts AC 50 Hz single phase

Timer cyclic

0 to 24 hrs day night

Alarm

Audio and visual

Dimensions

1050 x 1050 x 1500

900 x 1200 x 1500

1050 x 1200 x 1500

1200 x 1200 x 1800

Capacity

1500 ltrs

1800 ltrs

2000 ltrs

4000 ltrs