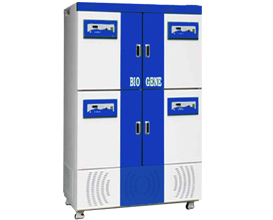 Applications
Features
Control
Construction
Specification
Bio Gene QUADRA Growth Chamber has 4 chambers. Compact rugged design Temperature of each chamber can be controlled independently which allow to process incubation at different temperature condition at the same time to save incubation time and cost. Capability provides various incubation and test condition needs temperature vs time vs light programming. Useful for bacteria incubation or comparison test of samples such as food packaging at different temperature condition.
Genetically modification of plant

Agriculture crops

High Plant Yield Generation

Biological studies of plant physiology

Biochemistry of nutrients

Crop Motivation engineering

Photo synthesis engineering Bio process

Plant Modification and Bio process

Crop Genetic research.

Plant Pathology analysis.
Temperature - Quadra Growth Chamber Temperature Range: 0°C to 70°C.
Digital PID Controller

±0.1°C Digital PID Controller with LED Display

Automatic START/STOP timer

Adjustable timer scale 99min 59sec / 99hr 59min / 99day 23hr or continuous operation

Temperature calibration

Auto-tuning function Durable epoxy powder coated metallic casing,

Class A Pt-100 Ω sensor
Inner body made up of heavy gauge Corrosion resistant Stainless Steel 304 grade.

Outer Body made up of rust proof mild steel elegantly epoxy powder coated.

Durable Stainless Steel 304 Sheath Heater and Copper-Aluminum fin evaporator.

Tempered safety inner glass window on the door including PVC coated wire shelf Built-in caster for easy Transport.

Quadra chamber with four independent doors and temperature controllers, Dual over temp, cut-off.

Separate heating and cooling compartment for easy maintenance.

Cooling system with hermetically sealed compressor.

Bio Gene Refrigerated Incubator Each chamber has double walled double door.

Forced circulation for excellent thermal Uniformity ± 0.7°c at 37.0°C

Outer door made up of rust proof mild steel elegantly powder coated lined.

Outer door with self adhesive magnetic door closer lock & key arrangement.

Inner glass door with high density silicone packing and air-tight door lock.

Corrosion resistant Stainless Steel 304 Chamber with seamless allows easy decontamination and prevents leakage

One 6.0 Amps power receptacle inside the chamber. = one X 4 chamber

Castor for easy movement.

Individual Lock and key for door.

Removable and height adjustable shelf.
MAKE

BIO GENE

MODEL NO.:

BTI-QRI-500

Chamber

Four chambers, QUADRA

Controls

Independent PID control

Heating

Forced Air Convection with EBM PLAST Germany Blower

Cooling

CFC Free air cooled hermetically sealed compressor Tecumseh Danfoss

Temp. Range

0°C ~ 70°C

Chamber Volume & Dimensions

Chamber Volume 125L x 4 Chamber

4 Doors

Dimensions Inner W x D x H mm

500 x 500 x 500 /

chamber Outer 1365

x 830 x 1815

Accuracy

± 0.2°C at 37.0°C

Uniformity

Forced circulation for excellent thermal Uniformity ± 0.7°c at 37.0°C

Control

Digital PID Control

Sensor

Class A Pt-100 Ω Sensor

Safety

EN60601:01

Dual (Digital & Analog)

Over-Temperature Cut-Off

Digital Over cooling Cut-Off

Audible visual alarm

Sensor disconnecting alarm

Over-current Cut-Off protection

Air Quality

Class 100 A comparable

Shelves

02 removable adjustable trays / 03 shelves

Alarms

Temperature, Time

MATERIAL

Body - Epoxy Powder Coated Steel

Chamber – Stainless Steel 304

DOOR

Inner Glass Door : with aluminum frame QTY 04 NOS

Outer door made up of rust proof mild steel elegantly powder coated lined. QTY 04 NOS

Heater Capacity

4 x 900W,

Shelf Perforated/ Wire mesh V

Caster

Heavy Duty Lockable Castor Wheel

Electric

AC-230±10% V 50/60Hz 1-Phase

Plug config.

CEE 7/7 SCHUKO or BS 1363

Accessories

Shelves 2/ light bulbs

Stabilizer

Compatible voltage Servo stabilizer in built