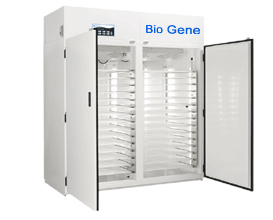 Bio Gene Seed Germinator

Seed Growth Dynamics impressed Bio Gene to design Seed Growth chambers with the capability to precisely Signal the Gap detection of spectral composition of photon and thermal interference thereby enhance the growth of seed germination.

The hypothesized program of relative signals of both photo energy and thermal interference among different species and size of seeds get faster germination using Bio Gene Seed Growth Chamber.
Applications
Features
Control
Construction
Specification
Bio Gene Seed Growth Chambers can be used creating Full Darkness or under Red or Far Red Light to ratios of 0.1, 0.4 and 1.0 fluctuations at 10–30°C temperature creating Day, Night or generate 20° C constant temperature with warm white or cool white photon's.

Seed Germination Cue due to light at soil surface or immediate below can be programmed. The thermal signals can also be generated in deeper soil for the large seeded species to signal the Gap detection even in the temperate pioneer trees.

Growth Chambers is used where Arabidopsis is researched when rapid cell expansion is specially required by the method of Crooked mutant, Displays random expansion in many polarize Cell growth using our growth chamber.

Growth Chamber can also be effectively used in cyan bacteria or Blue green algae cultivation to understand the behavior in natural ecosystems thereby understanding the Cyan bacterial hazards to Human health by adding the rotary motions that obtain energy through photosynthesis and get the color.
SPECIAL FEATURES

MACHINE STOPS
1) Door open
2) Programmed End
Alarms
1) Programe End
2) Heating Cycle
3) Cooling Cycle
4) Temperature Overshoot
5) Lux
6) Humidity

Safety and Convenience over temperature and current protection capability ensure user safety, adjustable rack, and water level sensor.

Self-Diagnostic Function automatically checks any malfunction and make warning signal.

Unique standard features are incorporated in the design to specifically support rearing for research in chamber.

Safety controllers are provided with Digital Temp. Controller Cum Indicator.

Temperature Alarm: This LED indicated the extreme Ambient condition and the temperature failure condition.

Door Open : Visual indication with door open conditions.

CONTROLS
Microprocessor based

Temperature controls muLTI Parameter display.

Programmable controls for Humidity.

Illumination controls with 10000 to 35000 lux (1100umole).

Spectral Illumination from Red, Far Red, Violet, Blue or Green

Warm White , Cool White, 500µmol(photon)/m2.s - 1000 µmol(photon)/m2.s

Data transfer, remote control, pass word lock, Mobile Alert.

Touch Screen, small and large LCD Screen HMI PLC.

Air circulation

Cycle Timer.
CONSTRUCTION DETAILS:
Bio Gene seed germinator is double walled convection heated and cooled units (Single chamber Units).

INNER CHAMBER
The inner chamber is made of heavy gauge stainless steel sheet of SS-304 grade or anodized.

CABINET: Bio Gene Insect growth chamber is provided with adjustable ribs to place the Trays for desired height and space management.

TRAY
The stainless steel shelves are adjustable and perforated, making them easy to clean and highly Resistant to corrosion.

These shelves also slide making it is easy to Place all product inside.

The trays are made of stainless steel 304 Grade .
CHAMBER LIGHT
Door operated illumination lamp is fitted inside the chamber for easy visibility.
FAN MOTOR
Fitted with 02 Nos. Fan for cooling & heating.

Technical Design and Construction Silent fan motor to maintain uniform temperature and humidity.

Circulation motor for water injection in routine model inside the control unit & Chamber.

Air Circulating Fans For Uniformity generates evenly distributed airflow across all shelf locations and temperature uniformity.

Bio Gene Biological Growth Chamber with shaker has Horizontal airflow system Generates airflow across all shelf locations.

Silent Hot Air Blower.

Unique design of Air Circulation.

Angle Iron frame.
VENTILATION
Unique design of Air Ventilation which helps maintain accurate humidity & temperature.

OUTER BODY
Outer body of our seed germinator are constructed out of thick PCRC sheet duly pre-treated with primers and rust proofing and painted with long lasting stove enamel or elegantly powder coated.

Mild steel sheet or G.I. (as per the customer's requirements).
INSULATION
The gap between the walls is filled high grade PUF.

Polyurethane foam insulation with a thickness of 75mm.

Puff Insulation keep the surface Temperature comfortable
TECHNICAL SPECIFICATION
DISCRIPTION

BTI-SG-112

BTI-SG-171

BTI-SG-280

BTI-SG-340

BTI-SG-450

BTI-SG-560

Temperature Range

5°C to 60°C.

Temperature Control

+0.5 deg.

Temperature uniformity

+1 deg.

Temperature sensor

3 wire RTD

Humidity range

5% RH to 95% RH

Humidity Control

+ 2% RH

Humidity Sensor

Capacitive

Interior construction

SS 304

Exterior Construction

CRCA Powder coated.

Self construction

SS 304 perforated.

Electrical

220 to 240 volts

Alarm

Audio and visual

Temperature Accuracy

+2° c

RH Accuracy

+2° c or Better

DIMENSTION (W X D X H)

455 X 410 X 610 MM

505 X 415 X 830 MM

570 X 550 X 875 MM

650 X 580 X 900 MM

700 X 640 X 970 MM

700 X 700 X 1100 MM

CAPACITY

112

171

280

340

450

560

VOLUME

4

6

8

14

14

16