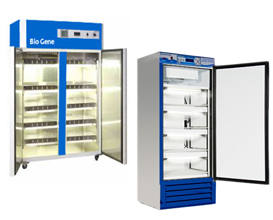 Bio Gene Tissue Culture Chamber
Applications
Features
Control
Construction
Specification
Bio Gene Tissue Culture Chamber are widely used in Hospitals Medical Facilities & Laboratories, Industrial Manufacturing, Research Centers, and Universities.

Bio Gene Tissue Culture Chamber and rooms are specifically designed to maximize research area and to provide uniform Environmental conditions. They are ideal for tissue culture work and genetic experiments.
Tissue culture area total on four- six tiers with 95μmoles/m²/s P.A.R. of lighting Ideal for tissue culture requiring upward airflow to reduce condensation Four tiers of single or double row shelving maximizing tissue culture area Through the shelf airflow reduces condensation Small footprint maximizing floor space in the lab
Bio Gene Tissue Culture Chamber is most suitable for circulation free environment to eliminate cross contamination in sterile techniques involving culture growth, tissue staining and virus harvesting.

The convenient working height and ample working space provides working ease for uses while media preparation.

The Inner Chamber is made of thick Stainless Steel Sheet304 grade

Tray surface will be of 3mm thick hylem Sheet.

Light Facility of LED Blue, Red & Far Red or fluorescent lights.

Shelves :shelf to shelf distance Adjustable

Temperature Range: Ambient-5ºC - 40ºC

Minimum heating effect/heat dissipation.

No Flickering effect.

Energy saver with individual switching arrangement in each shelf.

Outer Body made out of Thick CRCA Sheet duly powder coated.

Wheel/Castor

Provision for connecting the Tissue Culture Chamber to photoperiodic Timer/Controller output

Input 200-400 VAC, 50 Hz, Single phase,

Bio Gene tissue culture chamber specifically designed with an open channel floor on each shelf delivering upward airflow to minimize or eliminate condensation in the tissue culture dishes.

Uniform control of temperature, lighting using fluorescent lamps, and adjustable airflow

RH up to 95%

The front door is made of thick transparent Plexiglas and has arrangement for keeping the door open if desired.

The units are fitted with one U.V germicidal light and fluorescent LED light for Sterilization & illuminator respectively.
HUMIDITY CONTROL
Humidity control Bio gene uses a highly accurate Humidity sensor. This is linked to a microprocessor which controls the switching of the Humidifier. MICROPROCESSOR BASED DIGITAL HUMIDITY INDIACATOR – cum – CONTROLLER to control humidity form 40% to 95% at cool temperatures. Light intensity can be adjusted manually according to requirements.

HUMIDITY RANGE
90% + 5% (as per the graph attached)/ (As per the temperature Requirements).

HUMIDIFICATION
A low-pressure droplet free vapour boiler using direct vaporization system is used. Water Reservoir is provided at the side of the chamber with a 10 x 8mm PU tube quick connector and water level is automatically controlled through a water-in solenoid valve. The wick tank water level is automatically maintained through a water solenoid valve and an electrical float switch. The de-mineralized water or single distilled water supply to the humidity inlet having a resistance measurement of approximately 50,000 – 200,000 Ohm/cm is provided with the unit.

DEHUMIDIFICATION
Refrigeration based de-humidification system is used. The desired level of lower humidity will be achieved by maintaining the precise dew point temperature. The output will automatically be activated based on the set point as well as in ramp up mode after a low temperature cycle.

ILLUMINATION:
Bio gene units are provided with door operated illumination system comprising of fluorescent lights. The unit is designed to provide 100-150 Micro mol light intensity. Light Bank System (Option) programmable control from Three side, control from 15,000 to 25,000 Lux.

HUMIDITY SENSITIVITY:
Humidity is controlled by mean of an electronic humidity controller cum indicator with an accuracy of +5%.

TEMPERATURE CONTROL:
The temperature inside our temperature and humidity control cabinets is controlled through programmable micro-processor based temperature controller cum indicator.

TEMPERATURE RANGE:
Temperature ranges of our standard models are 0-40°C. Range 4°C to 40°C all lights off, 10°C to 40°C all lights on (extended temperature options are available). However we have the capacity to modify the same to suit the individual specialized requirements of our customers.

TEMPERATURE SENSITIVITY:
Temperature inside our temperature and humidity control cabinets is controlled with a sensitivity of +1° c or better.

FRONT PANEL:
Front panel of our units comprises of on/off switches heating, cooling and mains indicator lamps, temperature controllers. Lux controller,
These are sturdy double walled units with Inner chamber made of Stainless Sheet duly.

Interior: Stainless steel with Lights.

Exterior: Powder coated CRCA steel

HEATING
Tublar heating elements are placed in ribs, at bottom and sides, for uniform heat distribution.

ADJUSTABLE RACK
Inner chamber is provided with ribs for adjusting perforated shelves for convenient height made out of thick SS 304 grades.

DOOR Gasket
Synthetic door gasket made of neoprene rubber is fitted to all "BIO GENE" units.

Air ventilators
Air ventilators are also provided on the sides of the unit.

DOORS: Double wall Outer Door is made out of thick Stainless Steel with Inner wall made of Stainless steel SS 304 grade.

Inner Door: Inner Door is made out of Thick Glass/acrylic sheet as per customers demand and the application needs

LOCK & KEY
The door has a provision to lock with a key for hassle free working.

Air Circulating Fan : BLOWER Fan Installed to achieve uniform temperature in the Chamber at the Back wall for uniform distribution of the Air to maintain the temperature evenly.

Electricity
To work on 220/240 volts A.C, 50Hz, 1800-200W (during heating), suitable for Tropical /Dry conditions These models are fitted with specially designed Fans to maintain uniform Temperature.

Over Temperature Protection: Automatic cut off above 10OC of the set value, in case of faulty sensor or complete breakdown of sensor or switching element.- SAFETY THERMOSTAT

INSULATION
The gap between the walls is filled high-grade PUF, which ensures maximum thermal efficiency in our Bio Gene™ MICROPROCESSOR BASED Tissue Culture Chamber.
| | |
| --- | --- |
| DISCRIPTION | BTI-TCCH-170 |
| TEMPERATURE RANGE | 0 to 40 °C |
| TEMPERATURE STABILITY | < +1°C |
| HOUSING MATERIAL | CRC / Mild Steel Sheet duly Powder Coated |
| SAFETY FUNCTION | Water Level & Low water level cut off alarm (On customer request) |
| OPTIONAL | RS 232 Communication Interface |
| DUTY CYCLE | Continuous |
| INTERIOR | S.S.304 Polished Sheets |
| HUMIDITY RANGE | 50 %{Constant}RH + 3% 25% at 25°C |
| COMPRESSOR | Kirloskar/ Tecumseh As per model requirement (For Cooling below Ambient) |
| PRECAUTION | Don't use the Instrument without water |
| DIMENSION | 900 x 600 mm (without Glove port and Gauntlets) |