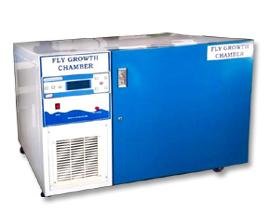 Bio Gene Fly Growth Chamber helps the researchers with a programmable, controller environment suitable for breeding ,rearing incubation of insect.
Applications
Features
Control
Construction
Specification
Bio Gene certified company engaged in manufacturing & exporting of Bio Gene brand of wide range of Fly Growth Chamber for laboratories, Industries, universities & research institutes. The equipment range offered by us are in conformance with CE,GMP and EU standards.

Bio Gene equipment finds wide application for conducting various, Production, researches, Pathogen, Germination and routine developmental experiments worldwide in the field of Entomology, Berating Rearing Insect Growth Chamber find application in the Rearing of Drosophila wolf spiders Moths, Bees, Mosquito's, Lepidoptera, Diptera, Weerils etc.
Many standard features are incorporated in the design to specifically support insect rearing in controlled environmental chamber.

Because most insect growth studies, such as the rearing of the fruit fly, create acidic secretions, Bio Gene Plant Growth chambers comes standard with coated coils, protecting interior components and contributing to a long operating life.

Alarms – High, Low, Cycle End etc High/Low Alarms for temperature, humidity, door open.

Flexible Configurations Misting.

Corrosive Resistant Equipment Automatic water supply system and lamp on delay system.

Alarm safety device.

High And Low temperature protector, over current and leakage breaker, safe diagnostic and alarm system.

Microprocessor based PID controller temperature controller at bottom of the unit for easy access of stacked second unit.

Bio Gene microprocessor based temperature and humidity controller.

Over temperature limiter and door opening alarm, temperature profiles programmable.

Research grade and suitable for continuous operation.


Bio Gene insect growth chamber options for data logging, alarm output for remote monitoring.
Bio Gene Insect Growth chambers is double walled convection heated and cooled units (Single chamber Units).

CONTROLLER LOCATION:- Microprocessor based programmable controller at the side of the front Door .

INNER CHAMBER
The inner chamber is made of heavy gauge stainless steel sheet of SS-304 grade mirror finish for better illumination& reflection.

OUTER BODY
Outer body of our Insect Growth chambers is made of galvanized steel Powder coated.

CABINET: Bio Gene Insect growth chamber is provided with adjustable ribs to place the Trays for desired height and space management.

TRAY/ SHELVES
Bio Gene Insect Growth Chamber 04 Nos Tray 05nos. shelves. Adjustable Shelves are made of made of steel with powder coating which can have the flexibility for 4.0" of vertical space.

CHAMBER LIGHT
Door operated illumination lamp is fitted inside the chamber for easy visibility.

FAN MOTOR
Fitted with Fan for cooling & heating.

Technical Design and Construction Silent fan motor to maintain uniform temperature and humidity.

Circulation motor for water injection in routine model inside the control unit & Chamber.

AIR CIRCULATING FANS For Uniformity generates evenly distributed airflow across all shelf locations and temperature uniformity.

Silent Hot Air Blower.

Bio Gene Insect Growth Chamber air circulation inside chamber for uniform temperature.

VENTILATION
Unique design of Air Ventilation which helps maintains accurate humidity & temperature.

INSULATION
The gap between the walls is filled high grade PUF.

Polyurethane foam insulation with a thickness of 75mm.

DOOR
The door is made of mild steel sheet lined with stainless steel from inside.

Double walled construction with Eutharene Insulation & Door permits easy viewing & monitoring this door is also built of S.S 304 in the inner side wall.

Bio Gene Insect Growth Chamber L to R Outer latch integrated lock with key.

Outer door is provided with magnetic door closer.

LOCK & KEY ARRANGMENT
This door is provided with lock and key arrangement.

STURDY STEEL FRAME
The unit is mounted on a sturdy steel frame for better stability, durability & long life.

CASTOR WHEEL
Bio Gene provided Heavy-duty with castor wheels for easy movement.

DIGITAL DISPLAY
Bio Gene Insect Growth Chamber microprocessor control and monitoring system with LED/LCD display with keypad for control functions.

DOOR HANDLE
The ergonomically designed door handle allows easy access into the chamber and contributes to workplace efficiency.

DOOR HINGE
Heavy duty stainless steel/brass hinges are provided for easy opening and closing of the door increases system efficiency.

DOOR GASKET:
Bio Gene Insect Growth chambers are supplied with SPECIAL five layers Silicon Magnetic Gasket for positive sealing.

RESERVOIR DRAIN
Recessed Reservoir drain, with convenient drain hose, is easily accessible and a screened based prevents rodent infestation.