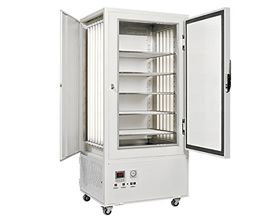 Past several decades has seen the necessity to enhance the yield of plants vegetation which has led scientist all over the world to find solution for plant growth rapid yield.
BioGene Plant Growth Chamber helps de-mystify such challenges by modulating the growth factors conducive to implant Foreign Gene, plants transposable genetic elements, effect of Temperature Humidity and light spectrum to activate the GAP detection signals.

Bio Gene Plant Growth Chamber introduces different color intensity LED panels from blue, Green Red Far Red Suitable to signal the Photosynthesis ensuring Correct GAP signals, for Hybridization in plant Fertility and Genetic modification of plant growth as well.
Applications
Features
Control
Construction
Specification
Bio Gene PLANT GROWTH CHAMBER are widely used in
Research Centers

Plant Engineering

Plant Cultivation

Genetic modification

AgroPharma Industries

Agro Industries

Plant fertility EW& Hybridization

Universities
PLC based HMI interactive control panel.

Touch screen control display with graphics.

Programmable controller provides automatic operation of variable temperature, humidity and illumination value.

Self-Diagnostic Function automatically checks any malfunction and make warning signal.

Illumination 0 to 35000 lux

Safety over temperature and current protection

CFC Free

Precise Hot Air & Humidity

Puff Insulation keep the surface Temperature comfortable & Avoid Heat & Humidity Loss.

Silent Hot Air Blower, Unique design of Air Circulation & Humidity circulation & improved Temperature / Humidity distribution.

Unique design of Ventilation.

Microprocessor based Environmental chamber controller with Auto tune PID Temperature Control.

Soft Power on switch

Real time Clock

Safety and Convenience over temperature and current protection capability

Temperature Alarm

Self Diagnostic Function
The temperature controlled PLC based HMI interactive control panel.

Lighting Control: 0-25000 LUX (35000 LUX optional)

LUX intensity of (0/25/50/75/100)%

Colored: Blue, Red, Far Red or White LED with wavelengths from 455-750mm

Illumination Cyclic: Photoperiodic cycle of the chamber from 0 to 24 hours.

Humidity Range: 5% to 90% RH ± 3RH

Cooling

Temperature range: 5-60°C

Standards : ISO,EN, CE, Electro magnetic

MDD :- 93/42/EEC

IEC 60068-2-14

EN 61000-6-1 : 2001

EN 61000-6-3 : 2001

Electromagnetic Compatibility Directive (89)/336/EEC)

EN: 60101, ISO, CE
Polish 304 grade of Stainless Steel interior Corrosion resistant long life.

Kanthal A-1 steel Tubular heater J shape.

Full feature with Temp. Controller.

Thermostat Bi-Metalic Capillary type for both dry & wet.

Angle Iron frame with castor wheel for easy movement

Fitted with 02 Nos. Fan for cooling & heating). Technical Design and Construction Silent fan motor to maintain uniform temperature and humidity.

Illumination with fluorescent tubes/LED accounts for artificial day light.

Front Panel: Front panel of our units comprises of on/off switches heating, cooling and mains indicator lamps, temperature controllers.

Cooling: An energy efficient cooling unit is installed in our temperature and humidity control cabinets to enable bio chemical demand, cyclic and growth studies at lower room temperatures.

High end CFC free compressors of Kirloskar/Tecumseh make, conforming to latest international standards and guideline.
Technical Specification

DESCRIPTION
BTI-PGC-171
BTI-PGC-350
BTI-PGC-420
BTI-PGC-500
BTI-PGC-840
Temperature Range

0°C to 60°C.

Temperature Control
±

0.5 deg.

Temperature uniformity
±

1 deg.

Temperature sensor

3 wire RTD

Humidity range

35 % RH to 90% RH

Humidity Control
±

2% RH

Humidity Sensor

Capacitive

Light

0-25000 LUX (35000 LUX optional)

Interior construction
Stainless steel 304
Exterior Construction

CRCA Powder coated.

Chamber Doors

Inner Glass Door with complete visibility of components.

Outer Door Metal

Option for electrical interface

Standard connector

Trays
Stainless steel

304 perforated.

Electrical
220 to 240 volts AC 50 Hz single phase
Timer cyclic
0 to 24 hrs day night
Alarm

Audio and visual

Size

505 x 415 x 830

570 x 550 x 875

700 x 640 x 900

650 x 750 x 1150

825 x 825 x 120

Capacity

171 ltrs

350 ltrs

420 ltrs

500 ltrs

840 ltrs

Shelves

2

3

4

4

4