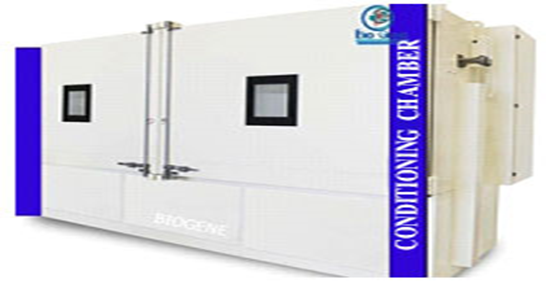 The BioGene Conditioning Chamber is a state-of-the-art temperature control solution meticulously designed to cater to the diverse needs of the Space research, Aeronauticals, Metalurgy, heavy engineering, Electronics, and many other industries. With an impressive temperature range from -50 to plus 100 degrees Celsius, this versatile chamber empowers scientists, engineers, and researchers to conduct precise and reliable experiments and testing processes.
Applications
Features
Control
Construction
Specification
ELECTRICAL PANEL
All Power Connectors, Protection Devices, Power Control Logic will be Built In The Control Panel Integrated To The Chamber.
All Electrical Functional Circuit is Equipped With Its Own Safety Device That Shuts Down The Relevant Circuit Or The Entire Test (Chamber If A Fault Develops.
Bio Gene Controlled Conditioning System Training Keeping in views the point of maintenance and smooth operation of the controlled conditioning system will, onsite Training of personnel for operation of controlled conditioning system, refrigeration system and programming through controller will be provided for 7 days.
STANDARD PROTECTIONS
Protective Features Provided As Follows :-
Over load Trip & Earth Leakage Trip For Complete Chamber.
Mcb's For Compressors, Heaters And Motors; Over load Trip For Compressor, Heaters And Motors; Bimetallic Over Temperature Cut-Off For Compressors; I !eaters will Be Cut-Off if Air Circulation Blowers Are Off.
SOFTWARE CAPABILITIES:
Bio Gene Conditioning Chamber with HMI is designed designed such that the temperature profile runs in manual as well as auto/programmed mode. Provision for Self test for trouble shooting.
Provision for modification of test profile temperature while test is in progress.
All test request and data will be store in hard disk and can be displayed for analyze and report generation while test is in progress.
Provision of displaying and printing temperature curves in different pages. Provision for zooming, expanding, retracting, select curve on/off, etc of temperature curves.
FEATURE
SAMPLE LIMIT
Wide Temperature Range: The BioGene Conditioning Chamber stands out with its impressive operating temperature range from -50 to plus 100 degrees Celsius. This expansive range makes it suitable for a myriad of applications in various industries, accommodating both cooling and heating requirements.
Bio Gene Conditioning Chamber with HMI Sample testing or storage of corrosive substances.
Flexible Capacities: Available in capacities ranging from 200 liters to a robust 4500 liters, our chambers offer the ideal storage and testing space to meet your unique needs. Whether you require a compact chamber for a small-scale lab or a large-scale solution for industrial applications, we have you covered.
Precision Temperature Control: BioGene Conditioning Chambers boast advanced temperature control systems, ensuring high precision and stability. This accuracy is paramount in critical research and testing processes where even the slightest variation in temperature can impact results.
Efficient Insulation: Our chambers feature superior insulation, minimizing energy consumption and maintaining temperature uniformity throughout the storage or testing period. This ensures optimal conditions for your samples and experiments.
User-Friendly Interface: Equipped with an intuitive control panel, our Conditioning Chamber makes temperature adjustment and monitoring a breeze. Real-time temperature displays and easy-to-use controls ensure hassle-free operation.
Reliable Build and Durability: Crafted from robust and high-quality materials, our chambers are designed to withstand the rigors of demanding research and industrial settings. The durable build guarantees a long-lasting product that stands the test of time.
Safety Features: Safety is our top priority. The BioGene Conditioning Chamber includes safety measures such as alarms for temperature fluctuations, overheat protection, and emergency stop buttons, providing a secure testing environment for both operators and samples.
TEMPERATURE SENSER:
Bio Gene Conditioning Chamber with HMI is designed with chamber feeding through Electric panel which is separated from cooling equipment to prevent the water condensation on the electrical components.
AIR-CONDITIONING CHANNEL
Evaporators, drainage, and the dry to prevent.
The Conditioning will be Done By Air Circulation To Maintain Uniform Temperature By Means Of low Noise Fan By Externally Mounted Motors.
ADJUST FEET AND WHEEL
Adjust feet: 4 castors.
CONTROL PANEL
Bio Gene Conditioning Chamber with HMI is designed with automated operation with provision for manual over ride. The operation will be via touch screen using appropriate software (electronic software control compatible with Windows OS
RECORDER & PC CONNECTIVITY (OPTIONAL)
Provision for connectivity with PC for program editor/run/stop or Getting The Recording Of 'Temperature Cycle With Printer.
Standard Ethernet/USB Interface For Pc Connectivity will be Provided In the Chamber
Control software license along with Suitable instrument/pc/printer for monitoring, controlling and graphical representation of testing profile
TEMPERATURE LIMITERS
Independent Adjustable Temperature Limiter For Mini/Max Digital Setting.
Adjustable Max/Mini Temperature Limiter For Test Space with Visual And Acoustical Alarm Message and additional protection for high temperature limit protection. (OPTIONAL)
SHELVE 6 Nos
Bio Gene internal dimensions : 2000 mm (W) x 1500 mm (D) x 1500 mm (H) of clear unobstructed space for test Bio Gene Test chamber is designed with six Shelves for specimen storage.
Dimensional tolerances to limit within ±5%)
Machine inner space is capable to store 36 samples of diameter 200 mm length up to 1000 mm.
The total weight of the stores up to 175 Kg each Shelve.
Shelves and the condition system will be capable of holding 36 no. of such stores.
Port holes & shelf : Port hole of 100 mm diameter with removable rubber
bungs shall be provided - 2 Nos.
One on each wall i.e. LHS and RHS.
Shelf: SS Bar shelf - 5 nos. shall be provided to hold the trays. 5 nos.
Aluminum trays size (2000mm x 1500mm)
INNER CHAMBER
Bio Gene Controlled conditioning system Interior construction made of 18 SWG stainless steel 304 grade.
Internal construction material industry hinges and sensor mounts not corrode and
No joints and sharp edges inside workplace.
All the joints will be leak proof for prevention of air and water 'leakage.
Exterior body
Exterior body made of18 SWG Mild steel sheet with electrostatic powder coated finish.
Built in control panel provided on exterior body without any projection and All the hinges and door locks made of stainless steel.
CNC based made outer body With fine finishing joints without any projections of fixtures.
Appropriate airflow for homogeneous sample temperature.
Lift air tightness using suitable silicon seals.
Refrigerant: CFC free environmental friendly refrigerant.
Appropriate Compressor mounding to prevent noise and vibration.
All wiring to be done with suitable identification.
Electric panel separated from cooling equipment to prevent the water condensation on the electrical components.
Chamber has Internal Air Circulation, And All The Heaters And Cooling Coil is Located Behind/Below The False Sheet Of The Chamber And Outside The Working Space.
Test Space is Welded Vapor Tight With Rounded Edges And With Suitable Shelf Supports.
DOOR
Bio Gene Conditioning Chamber with HMI always provides door locking system having both hinged and sliding door as per requirement. And for safety purpose and experimenting purpose, The door is firmly locked by lever, thermal sealing to be ensured and Door opening and closing is manual and auto mode provision is optional
Multi Pane Glass Window.
Bio Gene Controlled conditioning system provided with Double wall insulated comprising all the sub-systems for operation and Robust type chrome finished heavy duty SS hinges fitted on the right hand side of the chamber with front opening single door.
INSULATION : Glass wool 150 mm thick. All seals on the controlled conditioning system and door for leak proof will be of silicon rubber double gasket for hermetic sealing better quality rubber.
Bio Gene Controlled conditioning system provided with Full front opening double walled insulated double doors with glass window of 250 x 250mm and silicone rubber gasket -50 to +100°C temperature envelope as well as humidity envelope of 10-98% RH.
The door hinges and toggle type locking arrangement. Door micro-switch off all running functions in case of door opening.
Lockable Front Opening Left hinged, With Single Door Latch Easy to Open.
Viewing Glass is Properly Sealed To Avoid leakage And provided With Heating Provision To Prevent Condensation. Windows size (250x250 mm),
Bio Gene Controlled conditioning system Heating, refrigeration and humidity system controlled conditioning system provided with flame proof fittings.
Viewing window : 2 nos. viewing window of 250 mm x 250 mm with multi-panned safety glass. One on each door.
Defogger's will be provided with auto cut off. Arrangement of light in the controlled conditioning system with control switch on the panel for easy viewing through window.
Controlled conditioning
system flooring & drain : will be strong enough to withstand static pressure of650 kg/m2. Shall has necessary arrangements to drain out condensed water, out of the controlled conditioning system.
TRAY
Bio Gene Conditioning Chamber with HMI platform trays have a provision to slide inside outside for the placement of the samples.
ILLUMINATION
Internal Light With External Control for monitoring purpose
KEY PARAMETERS
TEST ENVIRONMENTAL CONDITIONS
TEMPERATURE RANGE
Cabinet 1(Cold cabinet) specification: Lowest temperature with Refrigeration system :(-)-50 to 100ºC.
Bio Gene Controlled conditioning system provided with electrical equipment mounted on the controlled conditioning system such as air circulation motor, inspection lamp, door limit switch, thermocouples etc shall be flameproof.
Heaters will be Fong cold portion and terminated in flameproof junction box.
| | |
| --- | --- |
| Make | Bio Gene |
| Model | BTI-TSC-45 |
| Operating temperature range | -50°C to +100°C |
| Controlled conditioning system temperature range | -50°C (±1°C) to +100°C (±1°C) |
| accuracy | +1°C |
| Shelves l weight | 175 Kg each. |
| Stored holding | 36 Nos |
| internal dimensions | 2000 mm (W) x 1500 mm (D) x 1500 mm (H) |
| SAMPLE | |
| Diameter | 200 mm |
| Length | up to 1000 mm |
| dimensional tolerances to limit within | ±5%) |
| accommodate | up to 36 numbers |
| Cooling rate: | : 2°C - 10°C/Minute averaged from 100°C |
| Heating rate: | 2°C - 10°C/Minute averaged from 0°C to 100°C |
| Relative Humidity | 10% to 98% + 3% |
| RH in climatic range | I-25°C to +55°C |
| Low humidity | <3% f:3% RH |
| Power supply | 3 phase, neutral earth 415 volts + 5%, 50 Hz AC |