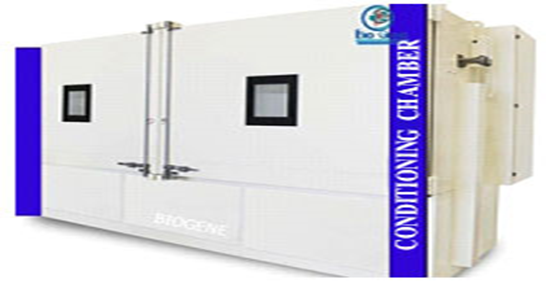 FEATURE
SAMPLE LIMIT
Bio Gene Conditioning Chamber with HMI equipment is prohibited for Testing or storage of flammable, explosive, volatile substances in the specimen.
Bio Gene Conditioning Chamber with HMI Sample testing or storage of corrosive substances.
Systems Testing or storage of biological samples.
HMI designed with Observation window for each door.
Dehumidification during heating
Bio Gene Conditioning Chamber has inbuilt Drain for condensate water.
Bio Gene Conditioning Chamber with HMI have Display resolution: 0.1 0C
Bio Gene Conditioning Chamber with HMI has One Port Holes-100 mm diameter with removable silicon rubber.
Condenser-Cooling is Air Cooled
Switch gear cabinet and control unit
Applications
Features
Control
Construction
Specification
ELECTRICAL PANEL
All Power Connectors, Protection Devices, Power Control Logic will be Built In The Control Panel Integrated To The Chamber.
All Electrical Functional Circuit is Equipped With Its Own Safety Device That Shuts Down The Relevant Circuit Or The Entire Test (Chamber If A Fault Develops.
Bio Gene Controlled Conditioning System Training Keeping in views the point of maintenance and smooth operation of the controlled conditioning system will, onsite Training of personnel for operation of controlled conditioning system, refrigeration system and programming through controller will be provided for 7 days.
STANDARD PROTECTIONS
Protective Features Provided As Follows :-
Over load Trip & Earth Leakage Trip For Complete Chamber.
Mcb's For Compressors, Heaters And Motors; Over load Trip For Compressor, Heaters And Motors; Bimetallic Over Temperature Cut-Off For Compressors; I !eaters will Be Cut-Off if Air Circulation Blowers Are Off.
SOFTWARE CAPABILITIES:
Bio Gene Conditioning Chamber with HMI is designed designed such that the temperature profile runs in manual as well as auto/programmed mode. Provision for Self test for trouble shooting.
Provision for modification of test profile temperature while test is in progress.
All test request and data will be store in hard disk and can be displayed for analyze and report generation while test is in progress.
Provision of displaying and printing temperature curves in different pages. Provision for zooming, expanding, retracting, select curve on/off, etc of temperature curves.
CONTROL WAY
Anti-windup PID, fuzzy algorithm BTC Balanced temperature control mode.
CURVE RECORD FUNCTION (OPTIONAL)
Bio Gene Conditioning Chamber with HMI Curve Record Function with battery-protected RAM, the device settings can be saved, time of sample values and the sampling time; maximum storage time of 60 days(when the sampling period for 1.5min).
SUBSIDIARY FUNCTION: (OPTIONAL)
Bio Gene Conditioning Chamber with HMI Fault alarm and reason to deal with the prompts, fault recording, over-temperature protection, on the lower limit temperature protection, power protection, select the sensor up and down wind, test suspension, alarm output, the time signal output end of the trial output, the temperature reaches the output, time to start auto-stop function, Self-diagnostic function.
TEMPERATURE AND HUMIDITY MEASUREMENT:
Temperature: T-type sheathed thermocouple.
HUMIDITY:
The psychomotor ball thermometer method (damp-heat)
Relative Humidity 10% to 98% + 3% RH in climatic range of ±25°C to +55°C min dew point at +4°C).
Bio Gene Controlled conditioning system Low humidity requirement <3% ±3% RH for specific test condition.
The dew point of nitrogen generated -40°C and purity 99.99%.
Bio Gene Controlled conditioning system with Nitrogen supply 15 ISAT cycle.
Test schedule as per 1 ISAT Cycle:
2 days at 50±2°C and 95±2% RH
1 day at 65±2°C and 60±2% RH
1 day cooling
8 hrs at 70+0°C/-4°C and dry (about 3% RH)
18 hrs cooling
1 day at 40±2°C and 95±2% RH
1 day cooling
Test schedule as per 1 diurnal cycle of 24
hours
Bio Gene Conditioning Chamber with HMI provides safety mechanism and there is lots of safety mechanism like Water sprinkler, Alarm, Visual Indication (LED blinking).
Over and under temperature protection.
High pressure and low pressure gas protection.
Over load motor, compressor protection.
Door open protection alarm.
Door lock.
Audio visual alarm at all protection.
Imported switch gears CE proved (Schneider, ABB, L&T, Allen Bradley, and Omron etc.)
Fire and temperature retardant wire used.
Common earthling point.
TEST CHAMBER:
Bio Gene Controlled Conditioning Systems
Adjustable over-temperature protection.
Bio Gene Conditioning Chamber with HMI Test space temperature fuse.
Air-conditioning channel limit over- temperature.
Door security locks can be opened from the inside.
The control panel will be provisioned to feed/ program test cycle.
Programs: The controlled conditioning system has a program mode in the controller which has 20 independent programs and through PC software at least 150 prograrn. These programs can be stored with a name and' number. Each programs has 50 segments where different modes such as temperatures, humidity cycle, air inlet and can be set.
Diagnostics: An event viewer shall display a log of all errors and actions with a date .1-1d time stamp. These events are also to be logged in a csv file which can be accessed using the UB ports available in the controller as well as through PC,
Trend graph: A real time trend will be provided to view the test program in a graphicial view. Temperature - RH graph with respect to time i.e. (T, RH) = function (time).
PID: Temperature PID parameters will be take care of control system Siemens/ABB/Omron - based PLC. Each of these PID's shall lie set by using the auto tune feature or manually entered values.
Uninterrupted power supply: Provision of uninterrupted power supply to controlled conditioning system to be made and will be under vendor's scope.
Alarm display
OTHERS:
Total power, phase sequence and phase loss protection.
Leakage protection.
Load short-circuit protection.
Leakage circuit breakers,.
The specimen power supply control terminal, External alarm output terminal.
All electrical fittings mounted inside / outside the controlled conditioning system shall be flameproof and All wiring on the controlled conditioning system will be as per STEC regulation in hard conduit.
All wiring on the refrigeration system, control panel and in the plant room will be standard flexible wires in flexible conduits.
All nut-bolts / screws used in construction of the controlled conditioning system must be of SS.
The power, data, communication cables, water line, etc. to control conditioning system.
Bio Gene Controlled conditioning provided with Control panel & wiring: Separate control panel attached to the main controlled conditioning system to be provided which will house twitches, fuses, contactors, indicating lamps and Channel type wiring to be done with suitable current rated copper wires with marking ferrules, crimped dowel terminals, elmex or equivalent contactors etc. Emergency button on local and control panel to be provisioned.
SAFETY FEATURES:
Bio Gene Conditioning Chamber with HMI provides all safety features :
Audio/visual alarm warning on fault condition
Emergency push stop button. Alarm on door opening
Thermal fuse connected to alarm.
Minimum-maximum Electronic temperature safety on sensor.
Temperature overshoots protection (lower as well as upper side).
Safety thermostat for test specimen protection.
Adjustable software temperature limiter (min/max).
Instrumentation/ software and control system.
Bio Gene Controlled conditioning Instrumentation: Dual loop PLC control system, temperature/ RH programmer will be provided with PT 100 temperature sensors (at least 4 sensors, to record stable controlled conditioning system temperature) for indication and control of temperature/ RH display. Programmer shall be Siemens/ Watlow make or equivalent with 7" HMI touch screen Weintek/Wecon or equivalent make for controlling the system. This control panel shall be fixed on the front side of the chamber and easily accessible.
PC based software and interface to the PLC controller to be provided with following features:
Test parameter data logging
Making multiple test profile/ cycle.
Refrigeration/ heating performance monitor window
DI/ DO's status window monitoring
Test PDF report generation
System diagnostic
Control system monitor screen to identify the working condition status of solenoid valves, pressure status and temperature display.
PC based monitoring panel to b4 located remotely (-350 m).
Refrigeration System Low preside safety alarm
High Pressure safety alarm
Humidity low water level alarm
Circulation Motor trip
Compressor trip
Condensing inlet temperature safety alarm (ambient temp High)
Controlled conditioning system high temperature alarm
Controlled conditioning system low temperature alarm.
Water tank of appropriate capacity with connection to water supply to HEMRL is required. The pipeline and other accessories required for connection with HEMRL water supply is responsibility of supplier.
The water level sensor of good quality and valve to stop tank filling will be provided.
POWER SUPPLY
Bio Gene Thermal Shock is designed with 3 phase, neutral earth 415 volts + 5%, 50 Hz AC.
INSTRUMENTATION & CONTROL
Delta/Omron make colorful TFT Capacitive Touch display HMI Controller is built around high performance core hardware with integrated functionality.
Touch screen controller allows the user to easily view and access information through the Resistive Analog touch Screen and through web server using a PC.
Dual USB host port allows connecting USB Mouse/ Key board and external storage devices (OPTIONAL).
User programmable soft keys with LED indication for pre-assigned functions.
Graphical program editing for faster programming and program view.
Program based / segment based PID selection for accurate program control.
Real time trend available with user scaling.
On demand Auto tuning.
Securities for user access.
Utilities:
Inspection lamp in controlled conditioning system to be provided LED Lamps of > 25W two numbers. The wattage & numbers of lamps may be increased to achieve proper illumination.
Illumination and lights : Provision to illuminate full workspace inside of controlled conditioning system to be made with inspection lamp. Inspection lamp shall be flame proof type.
Safety protection
Back up fuse protection for mains and individual circuit.
Over temperature safety cut off thermostat with audiovisual alarm.
Overload protector for motor.
MCB for heaters.
The controlled conditioning system will be equipped with suitable smoke detector / fire alarm.
Data processing unit :
Bio Gene Controlled conditioning system shall be provided with Data processing unit mentioned below: Processor: Inter Core i5 8th Gen Operating system: Genuine Windows (latest version) —perpetual license.
Memory : 16 GB DDR3
Hard disk : 512 GB SSD & 2 TB SATA
Display : 55" LED, FHD color monitor
System interface : TCP/IP Ethernet & USB 3.0 ports Microsoft office: latest version with perpetual license. The data processing unit to be located remotely (-350m).
Data storage: 5 TB external storage device.
VNC viewer to be provided on the data processing unit so that controlled conditioning system can be 'operated remotely.
CCTV Monitoring System
Camera Type 2 no's with wall mounted,
enclosed in flameproof and explosion proof housing, with view covering entire operation floor and stores under controlled conditioning system
Platform Remote adjustable and 3 directional
movable platform
Resolution Full High Definition
Output 55 inch display
Control & To be placed along with remote located
Viewing operation & control panel (-350m) Console.
Others Optical zoom & pan capabilities.
Recording Session recording capabilities so that it can be reviewed later.
Bio Gene Controlled conditioning system supplied with UPS of appropriate capacity and break time of 30 min.
Bio Gene Controlled conditioning system shall also be provided. The UPS also be accommodated in the shed.
Bio Gene Controlled conditioning system stacker of capacity 0.5 ton height with castor wheels (with lock) will be applied with the system.
Bio Gene Controlled conditioning system handles for good grip of operator.
Bio Gene Controlled conditioning system height to which the stacker platform can reach shall be 1.5 minimum.
The platform provided will be antiskid type and has railings on all sides.
TEMPERATURE SENSER:
Bio Gene Conditioning Chamber with HMI is designed with chamber feeding through Electric panel which is separated from cooling equipment to prevent the water condensation on the electrical components.
AIR-CONDITIONING CHANNEL
Evaporators, drainage, and the dry to prevent.
The Conditioning will be Done By Air Circulation To Maintain Uniform Temperature By Means Of low Noise Fan By Externally Mounted Motors.
ADJUST FEET AND WHEEL
Adjust feet: 4 castors.
CONTROL PANEL
Bio Gene Conditioning Chamber with HMI is designed with automated operation with provision for manual over ride. The operation will be via touch screen using appropriate software (electronic software control compatible with Windows OS
RECORDER & PC CONNECTIVITY (OPTIONAL)
Provision for connectivity with PC for program editor/run/stop or Getting The Recording Of 'Temperature Cycle With Printer.
Standard Ethernet/USB Interface For Pc Connectivity will be Provided In the Chamber
Control software license along with Suitable instrument/pc/printer for monitoring, controlling and graphical representation of testing profile
TEMPERATURE LIMITERS
Independent Adjustable Temperature Limiter For Mini/Max Digital Setting.
Adjustable Max/Mini Temperature Limiter For Test Space with Visual And Acoustical Alarm Message and additional protection for high temperature limit protection. (OPTIONAL)
SHELVE 6 Nos
Bio Gene internal dimensions : 2000 mm (W) x 1500 mm (D) x 1500 mm (H) of clear unobstructed space for test Bio Gene Test chamber is designed with six Shelves for specimen storage.
Dimensional tolerances to limit within ±5%)
Machine inner space is capable to store 36 samples of diameter 200 mm length up to 1000 mm.
The total weight of the stores up to 175 Kg each Shelve.
Shelves and the condition system will be capable of holding 36 no. of such stores.
Port holes & shelf : Port hole of 100 mm diameter with removable rubber
bungs shall be provided - 2 Nos.
One on each wall i.e. LHS and RHS.
Shelf: SS Bar shelf - 5 nos. shall be provided to hold the trays. 5 nos.
Aluminum trays size (2000mm x 1500mm)
INNER CHAMBER
Bio Gene Controlled conditioning system Interior construction made of 18 SWG stainless steel 304 grade.
Internal construction material industry hinges and sensor mounts not corrode and
No joints and sharp edges inside workplace.
All the joints will be leak proof for prevention of air and water 'leakage.
Exterior body
Exterior body made of18 SWG Mild steel sheet with electrostatic powder coated finish.
Built in control panel provided on exterior body without any projection and All the hinges and door locks made of stainless steel.
CNC based made outer body With fine finishing joints without any projections of fixtures.
Appropriate airflow for homogeneous sample temperature.
Lift air tightness using suitable silicon seals.
Refrigerant: CFC free environmental friendly refrigerant.
Appropriate Compressor mounding to prevent noise and vibration.
All wiring to be done with suitable identification.
Electric panel separated from cooling equipment to prevent the water condensation on the electrical components.
Chamber has Internal Air Circulation, And All The Heaters And Cooling Coil is Located Behind/Below The False Sheet Of The Chamber And Outside The Working Space.
Test Space is Welded Vapor Tight With Rounded Edges And With Suitable Shelf Supports.
DOOR
Bio Gene Conditioning Chamber with HMI always provides door locking system having both hinged and sliding door as per requirement. And for safety purpose and experimenting purpose, The door is firmly locked by lever, thermal sealing to be ensured and Door opening and closing is manual and auto mode provision is optional
Multi Pane Glass Window.
Bio Gene Controlled conditioning system provided with Double wall insulated comprising all the sub-systems for operation and Robust type chrome finished heavy duty SS hinges fitted on the right hand side of the chamber with front opening single door.
INSULATION : Glass wool 150 mm thick. All seals on the controlled conditioning system and door for leak proof will be of silicon rubber double gasket for hermetic sealing better quality rubber.
Bio Gene Controlled conditioning system provided with Full front opening double walled insulated double doors with glass window of 250 x 250mm and silicone rubber gasket -50 to +100°C temperature envelope as well as humidity envelope of 10-98% RH.
The door hinges and toggle type locking arrangement. Door micro-switch off all running functions in case of door opening.
Lockable Front Opening Left hinged, With Single Door Latch Easy to Open.
Viewing Glass is Properly Sealed To Avoid leakage And provided With Heating Provision To Prevent Condensation. Windows size (250x250 mm),
Bio Gene Controlled conditioning system Heating, refrigeration and humidity system controlled conditioning system provided with flame proof fittings.
Viewing window : 2 nos. viewing window of 250 mm x 250 mm with multi-panned safety glass. One on each door.
Defogger's will be provided with auto cut off. Arrangement of light in the controlled conditioning system with control switch on the panel for easy viewing through window.
Controlled conditioning
system flooring & drain : will be strong enough to withstand static pressure of650 kg/m2. Shall has necessary arrangements to drain out condensed water, out of the controlled conditioning system.
TRAY
Bio Gene Conditioning Chamber with HMI platform trays have a provision to slide inside outside for the placement of the samples.
ILLUMINATION
Internal Light With External Control for monitoring purpose
KEY PARAMETERS
TEST ENVIRONMENTAL CONDITIONS
TEMPERATURE RANGE
Cabinet 1(Cold cabinet) specification: Lowest temperature with Refrigeration system :(-)-50 to 100ºC.
Bio Gene Controlled conditioning system provided with electrical equipment mounted on the controlled conditioning system such as air circulation motor, inspection lamp, door limit switch, thermocouples etc shall be flameproof.
Heaters will be Fong cold portion and terminated in flameproof junction box.
| | |
| --- | --- |
| Make | Bio Gene |
| Model | BTI-TSC-45 |
| Operating temperature range | -50°C to +100°C |
| Controlled conditioning system temperature range | -50°C (±1°C) to +100°C (±1°C) |
| accuracy | +1°C |
| Shelves l weight | 175 Kg each. |
| Stored holding | 36 Nos |
| internal dimensions | 2000 mm (W) x 1500 mm (D) x 1500 mm (H) |
| SAMPLE | |
| Diameter | 200 mm |
| Length | up to 1000 mm |
| dimensional tolerances to limit within | ±5%) |
| accommodate | up to 36 numbers |
| Cooling rate: | : 2°C - 10°C/Minute averaged from 100°C |
| Heating rate: | 2°C - 10°C/Minute averaged from 0°C to 100°C |
| Relative Humidity | 10% to 98% + 3% |
| RH in climatic range | I-25°C to +55°C |
| Low humidity | <3% f:3% RH |
| Power supply | 3 phase, neutral earth 415 volts + 5%, 50 Hz AC |