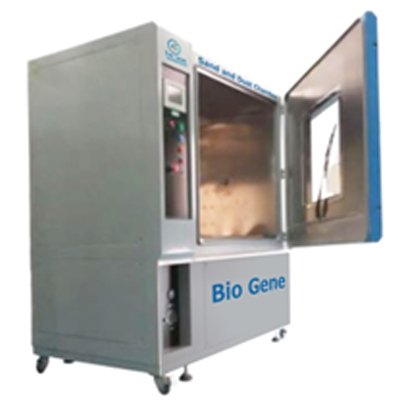 Bio Gene Model No-BTI-SDC-422 Sand and Dust Chamber are quality engineered and carefully designed by high qualified & technically well experienced Biotech Engineers to ensure long life and reliable performance.
Sand and dust chamber is used during device development, testing and evaluation to check reliability relative to atmospheric effects from dry sand and dust (fine sand).
Sand and dust tests simulate the effect of particles of sharp-cornered sand and dust (fine sand) of up to 150 microns in size. The particles enter cracks, crevices, bearings and other connections, causing various types of damage responsible for equipment corrosion and malfunctions.
Applications
Features
Control
Construction
Specification
| | |
| --- | --- |
| CRCA /SS / Galvanized sheet construction | CFC and asbestos free insulation |
| Adjustable / removable dust tray | Doors w/ interlocking system & viewing window |
| Dust measuring devices as per standards | Provision for extra dust (fine powder) bags |
| Timer for triggering funnel vibrators | Fitted with vibration absorbers |
| Heaters on funnel sides for dust drying | Machine Mounted on sturdy frame |
| Movable design using caster wheels | Internal light w/ switch |
| Dust-tight gasket | Control Panel for Temperature, Humidity, and Timer |
o Free-flow dust circulation centrifugal blower.
o Uniform floating dust simulation across the test space.
o Dust pre-heating mechanism for free flow of the dust.
o Hopper re-vibration for free fall of settled dust.
o Blower speed regulation to ensure metered uniform dust floating inside the test space.
o Oil-free vacuum pump to simulate negative pressure for IP6X test.
o Volumetric air-flow meter/counter for IP6X test.
o Full view window with illumination.
o User-friendly touch control/Multi-function programmable timer.
SpecificEASE USAGE
User-Friendly Touch Control/Multi-Function Programmable Timer.
CAPABILITY
Cycling Dust Test Programmable Capability.
DESIGN
Sand and Dust Chamber:
Air containing sand and dust is circulated in a wind tunnel, flowing from the top to the bottom of the test area.
The san and dust therefore form a laminar flow from above the test sample and are blown against it, so the test plan needs to specify the test sample placement direction.
The test area measures 4000 x 2000 x 2000 mm (W x H x D). The test sample surface area needs to be no more than 30 to 50% of the floor surface area to ensure there is a path for the air flow.
ation
CONSTRUCTION
Constructed with CRCA sheet, Stainless Steel (304, 316 & 316 L) or Galvanized sheet. Interior chamber is made of stainless steel with mirror finish. The door is solid and lockable with a micro switch enabling an interlocking system. The door is provided with toughened glass observation window and a rubber wiper with rotating handle.
INSULATION
The Gap between the walls is filled with high-grade seams and fireproofs non-hygroscopic 2" thick Mineral wool insulation, which is impervious to corrosive vapors and fumes and also ensures maximum thermal efficiency in our sand and dust chamber.

HEATING
Indirect heating system is provided in our units, comprising of air heaters made of high grade Kanthal A-1 wires of suitable wattage. The warm air is evenly distributed throughout the chamber through efficient motor fans ensuring very good temperature sensitivity.
TEMPERATURE CONTROL
The temperature inside our temperature and humidity control cabinets is controlled through programmable micro-processor based temperature controller cum indicator.

MICROPROCESSOR BASED DIGITAL MICRO CONTROLLER HAVING PROGRAMMES. HUMIDITY CONTROLLER WITH DEW POINT CONTROLLER HEATER
TEMPERATURE RANGE
Temperature ranges of our standard models are 20°C to 80°C. However we have the capacity to modify the same to suit the individual specialized requirements of our customers.
STABILIZER
Bio Gene Equipment included an appropriate standard make stabilizer for better stability during incubation.
TECHNICAL SPECIFICATION
Main specifications

Control method

Wind tunnel circulation method

Temperature range

20 to +80°C

Humidity range

30% RH max.

Test chamber internal dimensions

W4000×H2000×D2000 mm

Air velocity range

0.5 to 15.2m/s

Sand and dust concentration range

3.5 to 17.7g/m3