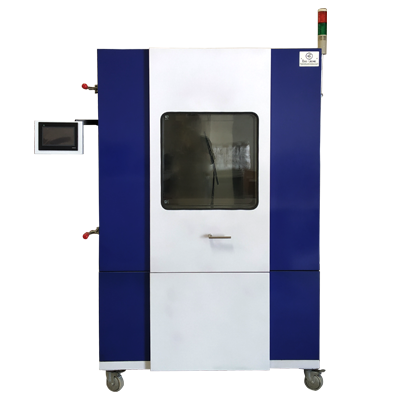 Biogene Environment Test Chamber: Creating the Ideal Environment for Industrial, Scientific Research all over the Globe. The Biogene Environment Test Chamber are manufactured in India and used in Gulf, Far East Asia, South America, It is an innovative and cutting-edge facility designed to provide scientists and researchers with a controlled environment for conducting experiments and tests. This state-of-the-art chamber offers precise control over temperature, humidity, and other environmental factors, allowing for the simulation of various conditions to study the effects on biological samples, plants, and organisms. In this article, we will explore the features and benefits of the Biogene Environment Test Chamber, highlighting its significance in advancing scientific research and discovery Accurate Environmental Control: One of the key features of the Biogene Environment Test Chamber is its ability to maintain precise control over environmental variables. Temperature Range -300C to plus 1000C, humidity Range 35 rH to 95 rH airflow, conditions can be adjusted and customized according to the specific requirements of the experiment. This level of control ensures that researchers can create an ideal environment to study the impact of environmental factors on living organisms and biological processes. Versatility and Customizability: The Biogene Environment Test Chamber offers a high degree of versatility, making it suitable for a wide range of research applications. Whether studying plant growth, microbiology, tissue culture, or insect behavior, this chamber provides the flexibility to recreate various environmental conditions. Researchers can modify settings such as temperature gradients, light intensity, and humidity levels to simulate real-world scenarios or create specific experimental conditions Precise Monitoring and Data Collection: To ensure accurate and reliable results, the Biogene Environment Test Chamber incorporates advanced HMI and PLC monitoring and data collection systems. Temperature and humidity sensors, CO2 analyzers, and other sensors constantly measure and record environmental parameters, enabling researchers to closely monitor the conditions inside the chamber. The collected data can be analyzed to gain insights into the relationship between environmental variables and the experimental outcomes.
This equipment is widely used in the testing and reliability testing of electronic and electrical engineering, aerospace plastics, auto parts, medical treatment, building materials, military industry and other products.
Applications
Features
Control
Construction
Specification
Environmental chamber is an enclosure used to test the effects of specified environmental conditions on biological items, industrial products, materials, and electronic devices and components.

Bio Gene Environmental chamber can be used:
as a stand-alone test for environmental effects on test specimens
as preparation of test specimens for further physical tests or chemical tests.
as environmental conditions for conducting testing of specimens
Microprocessor based Environmental chamber controller with Auto tune PID Temperature Control/HMI based controller.

Soft Power on switch

Programmable profile control programs for automatic operation.

Real time Clock

SSR based output controls for Heater, cooler, Humidifier, Dehumidifier.

Safety and Convenience over temperature and current protection capability

Temperature Alarm

Self-Diagnostic Function

Bio Gene Environmental Test Chamber equipment is prohibited for Testing or storage of flammable, explosive, volatile substances in the specimen.

Casters wheels with leveling and locking provision

Drain: Water drain is provided to drain out condensed water out of the chamber test space.

Sound pressure level- approx. 65-70 dB

Observation window for sample visualization

Effective Dehumidification system during heating
Delta/Omron make 7'' colorful TFT Capacitive Touch display HMI Controller is built around high performance core hardware with integrated functionality.

In addition USB host port allows direct transfer of log files, program files and report to the external storage devices like Hard disk USB drive.

Communication ports (RS 232/485).

10 Base /100 base –TX

port for external devise

Communication/Remote operation (OPTIONAL).

USB host port allows connecting USB Mouse/ Key board and external storage devices (OPTIONAL).

User programmable soft keys with LED indication for pre-assigned Functions.

On board 1 GB USB Pen drive.

Total programming capability up to 4 programs with each program having 20 Segments and 9999 repeat cycles.

Program based / segment based PID selection for accurate program control.

Real time trend available with user scaling.

On demand Auto tuning.

Securities for user access.
Bio Gene Programmable Environmental Chamber is Double Walled Construction and stainless steel 304 grade steel.
INNER CHAMBE -Inner chamber is made of stainless steel 304 grade.

OUTER CHAMBER -Outer chamber is made of CRCA mild steel duly coated steel with powder-coated.
DOOR -Door is made of Mild steel duly powder coated.
• Bio Gene Environmental Chamber provided Electromagnetic door closing System to ensure safety.
• Bio Gene Environmental Chamber system has in-built water supply tank for humidification with self-feeding system and water level alarm system.
SHELVE - Bio Gene Programmable Environmental test chamber Shelf 04 Nos made of stainless-steel shelf.
• Bio Gene Programmable Environmental Chamber Port hole on both the sides of the chamber.
• Sensor - PT-100 sensor. Class 'A' Type for temperature and capacitance type sensor for humidity
• All seams argon arc welded
Insulation:100mm thick high-density glass wool and PUF insulation
• Double walled type single leaf door with heavy-duty hinges
• Door provided with limit switch to have an interlock with the air circulation system
• Air cooled condenser unit shall be provided.
• Noise level <60dB measured as per the standard.
Bio Gene Environmental Chamber system has in-built water supply tank for humidification with self-feeding system and water level alarm system.
DOOR LOCK & KEY ARRANGEMENT -Bio Gene Programmable Environmental test chamber shall be sealed by a Door with an adjustable door lock mechanism with a hinge on left and open fully for easy access.
Bio Gene Environmental Chamber is Relative Humidity Range 10% to 90% within the temperature range +10°C to + 90°C (without solar radiation)
TECHNICAL SPECIFICATION

Make

Bio Gene

Model

BTI-EC-300

BTI-EC-400

BTI-EC-500

BTI-EC-700

BTI-EC-1000

Internal Volume

300 litres

400 litres

500 litres

600 litres

700 litres

Temperature Range:

--30℃ to +100℃

Temperature Accuracy

±1°C

Humidity Gradient

±1.5°C

Insulation material

Polystyrene foam

Thickness of insulated material

20-25mm

Capacity of in built water tank

10lts

Temperature Stability

+ 1.0°C

Humidity chamber

10% to 90% RH

Humidity Accuracy :

±4% RH

Gasket :

Silicon rubber gasket

Door

Suitable size glass window Front type opened door with double lock.

Internal lighting

Flurescent lamps

Noise level

<60db

Temperature sensor

2 nos.

Display

Color touch screen LCD

Inner chamber (Material)

stainless steel grade SUS304

Controller

Microprocessor based controller

Electrical requirement

415 Volts ±5%, 3phase –neutral, 50Hz, AC power supply

Nominal power

Optimum power supply.