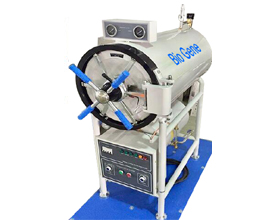 Bio Gene Cylindrical Autoclave help attain sterilization by disinfection the Biological materials from Viruses, Bacteria using saturated steam pressured in combination of time Duration, Temperature thereby eradication. The Micro organisms spares much faster due to dedicated dry or wet cycles by programming the Slow or fast exhaust fine tuned to deliver fully sterilized Media glass ware etc. or Hospital or Industrial Waste.
Applications
Features
Control
Construction
Specification
Bio Gene® AUTOCLAVE CYLINDRICAL is widely used in Research Centers, Major Universities, Pharma, Biotech, Medical research, Hospital, Diagnostics, Agriculture science, Pharmacology, Immunology, genetics, Bioengineering Biotechnology, Microbiology, Botany, Zoology etc.
Ersatile usage.

Ergonomic Design

Energy Efficient

Double Safety Radial Locking Arrangement

Double Safety Valve Protection

Hydraulic Testing Upto 2.5 times the working pressure

Calibration And Protocol Documentation

Microprocessor based controls.

Data Logging System (Optional)
Microprocessor Based Programmable controls

Temperature: 105 to 121/134ºC.

PRESURE RANGE: 15 -22psi/32psi

Time :- 0-99/999 Min

Door Lock :- lockable

Blower speed : ON/OFF

Alarm : Temperature Timer

Sterilization : Cycle

Process: Start. End

Air : Class 100

EN: 60601 : 1

EMD : 93/42/EEC
Bio Gene CYLINDRICAL Autoclave is double walled units. The inner chamber is made of heavy gauge stainless steel sheet of SS-304 grade. The Outer body of our Autoclave is constructed out of thick Sheet duly pre-treated with primers and rusts proofing and painted with long lasting stove enamel or elegantly powder coated.

Bio Gene Autoclaves are air insulated from inside, however we may incorporate mineral glass wool insulation if the customer desires so. The strong lid constructed out of thick steel plate which is lined from inside with Stainless steel sheet of Stainless Steel -304 grade has a double safety radial locking arrangement , which ensures an easy and smooth opening and closing operation for all Bio Gene CYLINDRICAL autoclaves are ideally suited for hospitals and research labs where safety is the first priority of the users, since it is equipped with a double safety steam release valve. At the same time we test all our autoclaves for up to 2.5 times the standard working pressure to ensure maximum safety and protection from any unfortunate incident... All our CYLINDRICAL autoclave is supplied complete with pressure gauge, pressure release valve and stainless steel basket as a standard feature.
MODEL
BTI-CA-119
BTI-CA-175
BTI-CA-235
BTI-CA-335
BTI-CA-420
Make
BIO GENE
Technical Matrix For
Lab
Temperature Sensor
PT 100
Basket
1
Temperature range
115ºC-121ºC
Temperature Controller
Microprocessor Based Programmable Controller
WORKING PRESSURE
15 to 22 p.s.i
INNER CHAMBER
Stainless Steel Sheet
Outer body
Covered Mild steel
Heat Load
6 KW/ 9KW/ 10KW/ 12KW
Nominal Voltage
220-230 Volts, 50Hz Single Phase
SIZE
450 x 750mm
500 x 900mm
500 x 1200mm
600 x 1200mm
600 x 1500mm
CAPACITY
119 LTR
175 LTR
235 LTR
335 LTR
420 LTR