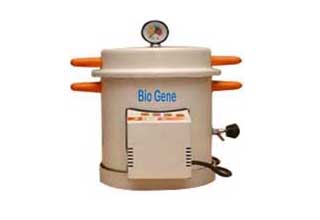 Bio Gene Portable Autoclave are one of the best Solution for sterilization whether Dental Ware sterilization or operation theatre instruments are concerned , We use saturated steam high pressure at 121ºC to make penetration and deactivate bacteria, Viruses Fungi, Bio Gene's dedicated Microprocessor with complete Autoclave Cycles makes the Autoclave a best friend in Dental and Tattoo or operation theatre.
Applications
Features
Control
Construction
Specification
Incomparably Safe, Reliable, Easy to Use, Portable, Durable & Cost-Effective too.

Seamless construction ensures bacteria free environment. The unit is fitted with pressure gauge, safety valve (weighted) pressure release valve & rubber gasket for seamless/leak proof fitting.


Electric/Non electric.

For Hospitals, Nursing Homes, Clinics, Dentists, Surgeons, Camps, Pathology Labs, Laboratories, Naturopaths and anywhere you need complete sterilization.
ALUMINIUM/STAINLESS STEEL BODY

Anti-bulging & fuel saver base for extra strength, fuel & time saving, anti-bulging lid for additional strength.

ISI marked gasket made of food grade synthetic rubber for longer & better performance and hygiene.

More than 40 different Models, Widest Range of Sizes to match different requirements.

Available in Non-Electric, Electric and Semi-Automatic too.

Handles & valve knobs made of very durable, heat resistant & fine quality bakelite t o avoid breakage.
Fusible plug type safety valve and gasket release system (grs) for triple safety.

Color-coded pressure gauge to indicate safe and danger zones.

Weight type safety valve & pressure regulating device for better safety and reliability.

Vacuum release & steam release valves made of stainless steel to avoid breakage &

stile

deposits.

High quality 3-pin plug and element connector (plug) for better safety & easier extensibility of the cord.

International quality timer (in semi-automatic model) for reliable performance & t o avoid accidents.

Inner tripod stand made of stainless steel with extra height to avoid water entering into dressing drums.
ISI marked heating element made of heavy pipe with better quality

Polishing for

longer life, fitted with specially designed silicon rubber washer to protect from leakage around the element

.


Specially

designed rubber cable (in semi-automatic autoclaves) capable of comfortably bearing the heating load. Special rubber material used to make it water, heat, wear & tear and electrical fault resistant.




Sterilizer Chamber door

Operation Manual


Well

designed, powder coated outer stand for better stability & attractive looks

.
ACCESSORIES
Each

Tabletop autoclave unit will be supplied along with One cassette with 5 levels and one set of suitable sized instrument

trays

Sterilizer unit supplied with consumables sufficient to carry out sterilization
MODEL

BTI-TTA-05

BTI-TTA-10

BTI-TTA-15

BTI-TTA-22

MAKE

BIOGENE

TECHNICAL MATRIX FOR

LAB

TEMPERATURE RANGE

115ºC-121ºC

NUMBER OF TRAY IN STERILIZER CHAMBER

1

TEMPERATURE SENSOR

PT 100

WORKING PRESSURE

15 TO 22 P.S.I

TEMPERATURE CONTROLLER

ANALOG/ DIGITAL PID CONTROLLER

HEAT LOAD

1KW/2 KW/ 2KW/ 3KW

NOMINAL VOLTAGE

220-230 VOLTS, 50HZ SINGLE PHASE

CAPACITY-LTRS

05 L

10 L

15 L

22 L