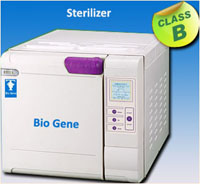 Bio Gene sterilizers are manufacturerd to comply to European class B standard, this sterilizer also pass the BOWIE and DISK Test and lelix tests for detection of steam & pentration as well.
Our Setrilizers have function for three step pre vacuum drying and depth of pre vacuum with 0.85 bar pressure.
The residual humidity is well below <0.2.
There improved design with B class porocity and hollow tube ensures removal of internal air even at hollow instruments, the steam at high temperature is evenly distributed all over the chamber.
Bio Gene unique disign of this high tech sterilizer also ensure 100% sterilization of cotton as well apart from the instruments used.
The sterilizers are capable to give data output through USB port or can be coupled to a mini printer. The microprocessor based software is easy and operator friendly and menu driven to give ease in operations.
Model

Voltage
(V/Hz)

Power
(W)

Capcity
(L)

Chamber Capacity
(mm)

Packing Size
(mm)

Weight
(KG)

220/50

2100

23

250X450

660X550X560

50

220/50

1800

18

250X355

660X550X560

47
Specifications:
| | |
| --- | --- |
| Capacity: | 23L OR 18L |
| sterilizing temperature: | 121℃,134℃ |
| Special function: | Kill the AIDS (HIV), hepatitis B (HBV) mad cow virus and Bacillus |
| Dry procedure: | vacuum drying |
| Display: | 240X160 Dots LCD, multi languages |
| Test program | Bowie&Dick test, Helix test, Vacuum test |
| sterilizing data : | Print by optional external mini-printer or download USB port |
| Safety Features: | Safe Valve;Double-control lock system and self-test alam system |
| water supply system : | Two water tanks inside.capacity of reservoirs(3.5L fresh water and 5 liter waste water reservoirs) |
| Voltage: | 220V±10% |
| power: | 18L:1800W, 23L:2100W |
| instrument containers: | 5-layer activity pallet rack with 3 trays |
| Chamber size : | 250mm*450mm(23L);250mm*355mm(18L) |
| Net weihgt : | 50Kg(23L);47Kg(18L) |

Features:
1.Steam generator and bolier heating separated.
We adopt the Steam generator to produce steam, which is mounted seperatly with controlled steam indent, so that we can manipulate the speed and volume of steam generated, reducing the water consumption,and also improved the lifetime of heating circle because of the lower temperature of bolier.
2.The material of Lid safe&reliable
Imported 2mm SU304 stainless steel Lid is used to ensure safety when the inside chamber have a higher pressure and also this will avoid the second times pollution which casued by the corrosion from the Lid.
3.Advantages of the control system
Our Sterilizers are a result of Research & Developent for unique temperature and pressure control technology to ensure the Positive and negative temperature of every two points inside chamber which is less than 0.5℃, guarantee complete sterilization。
4.The reliability of measurement accuracy
The measurement accuracy of temperature:0.1℃,The measurement accuracy of pressure:0.001bar。

5.The safty of double-control lock structure
Use latest Machinery and electronic double-control lock structure,to be sure the safty durning the operation time.

6. Low enough vacuum ability
Use double-head vacuum pump,let the each pulse vacuum process achieve low enough vacuum, guarantee complete sterilization。

7. Automatical & manual adjust of the parameters of temperature sensor
The adjust of parameters is automatic, and manual adjustment is also available.this way we can ensure the machine can work in different atmospheric environments

8. Multilanguage are optional,Easy to operate
The users can find the language according his requestes,easily.

9. Broad ventilation window design, convenience& fast of heat radiation
Applications
Features
Control
Construction
Specification