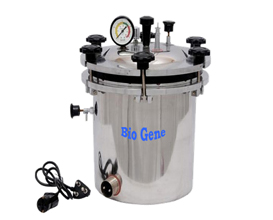 Bio Gene®: SURGICAL AUTOCLAVE ELECTRICAL (BTI-SA-3030-AA-E)

Bio Gene® Surgical Autoclave assures complete sterility by the process of using Damp heat steam penetrating evenly. Thus all Fungi, Spores, Bacteria Viruses gets inactivated dental surgical application confirm of surgical safety standard.

Bio Gene Surgical Autoclave enhance the usage of same instruments due to its fine controlled programmable microprocessor which uses dedicated Software specially designed to carry out surgical Autoclaving. (OPTIONAL)
Applications
Features
Control
Construction
Specification
Incomparably Safe, Reliable, Easy to Use, Portable, Durable & Cost-Effective too.

For Hospitals, Nursing Homes, Clinics, Dentists, Surgeons, Camps, Pathology Labs, Laboratories, Naturopaths body Piercing, Tattooing and anywhere you need complete sterilization.
Aluminum Alloy Body.

Anti-bulging & fuel saver base for extra strength, fuel & time saving, anti-bulging lid for additional strength.

ISI marked gasket made as per WHO/ISO standards, synthetic rubber for longer & better performance and hygiene.

Fusible plug type safety valve and gasket release system (grs) for triple safety.

Color-coded pressure gauge to indicate safe and danger zones.

Weight type safety valve & pressure regulating device for better safety and reliability.

Vacuum release & steam release valves made of stainless steel to avoid breakage & stile deposits.

Handles & valve knobs made of very durable, heat resistant & fine quality Bakelite to avoid breakage.

ISI marked heating element made of heavy pipe with better quality chrome plating for longer life, fitted with specially designed silicon rubber washer to protect from leakage around the element.

Specially designed rubber cable (in semi-automatic autoclaves) capable of comfortably bearing the heating load. Special rubber material used to make it water, heat, wear & tear and electrical fault resistant.

High quality 3-pin plug and element connector (plug) for better safety & easier extensibility of the cord.

International quality timer (in semi-automatic model) for reliable performance & to avoid accidents.

IEC 60601-1

ISO 9001-2008

ISO 13485

The pressure vessel is designed as per ASME SEC VIII.

Surface finish 180 grit, roughness average 0.8 micron CLA.
The pressure inside our Surgical Autoclave is controlled through a semi automatic, which controls the pressure inside the chamber and cuts of the current from the heater whenever the pressure exceeds the set pressure value of the autoclave, thus making it very safe and energy efficient.

Seamless construction ensures bacteria free environment. The unit is fitted with pressure gauge, safety valve (weighted) pressure release valve & rubber gasket for seamless/leak proof fitting.

ELECTRIC/NON ELECTRIC
More than 40 different Models, Widest Range of Sizes to match different requirements.

Available in Non-Electric, Electric and Semi-Automatic too.
Surgical autoclave is Single walled units. The inner chamber is made of heavy gauge Aluminum Alloy.

Autoclaves The strong lid constructed Aluminum Alloy has a double safety wing nut lid locking arrangement, which ensures an easy and smooth opening and closing operation for all Surgical autoclave are ideally suited for hospitals and research labs where safety is the first priority of the users, since it is equipped with a double safety steam release valve. At the same time we test all our autoclaves for up to 2.5 times the standard working pressure to ensure maximum safety and protection from any unfortunate incident.

All our Portable autoclave is supplied complete with pressure gauge, pressure release valve and stainless steel basket as a standard feature.

WORKING TEMPERATURE
Surgical Autoclave as per the international standards and guidelines our surgical autoclaves have a working temperature of 121ºC. However for specific requirements our autoclaves can be upgraded to be used for up to 140ºC.

WORKING PRESSURE
Surgical Autoclave Working pressure for our standard model surgical autoclave is 12-21psi, however this can be upgraded to be used for higher pressures of up to 30 psi.

PRESSURE RANGE
Surgical Autoclave Normal pressure range of our autoclave is 12 to 21 psi.
| | |
| --- | --- |
| MODEL | BTI-SA-3030-AA-E |
| Make | BIO GENE |
| Technical Matrix For | Lab |
| Temperature Sensor | PT 100 |
| Basket | Stainless Steel wire basket with handle Qty 01Nos |
| Temperature range | 115ºC-140ºC in pressure gauge |
| Working Pressure | 12 to 21 p.s.i |
| Inner Chamber | Aluminum Alloy |
| Water level | Low water cut off device Thermostat |
| Heat Load | 1.5KW |
| Nominal Voltage | 220-240 Volts, 50Hz Single Phase |
| Plug | 3 pin top plug (BS compatible) |
| Size | 300 x 300mm |
| Capacity | 21 LTR |