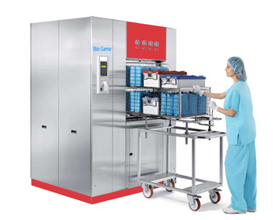 Autoclave ISO, 13485, CMDCAS, FBAS, GMP, 21 CFR PART II NIST, OM-CP-AVS140-1/6.

BioGene understands the need for Sustainable Quality life and Pollution free Environment.

The Pressure on the Industries, Hospitals Pharma & Chemical Industries to properly manage the quality of life and developing sustainable fitness by generating vaccines and Inoculation. Secondly In today's world, Hospital, Medical & Industrial waste Management is a big responsibility as well . BioGene makes conscious efforts and produced dedicated sterilizer autoclaves for complete sterile vaccine and Inoculation of medical, Hospital waste Sterilization under strict guidelines of FDA, GMD NIST OM-CP-ARS-140=186.

Our Hospital Medical Autoclaves Deactivate Biomedical waste, Aphis Micro organism Viruses, Bacteria, effectively by using pressurized saturated steam controlled through microprocessor Based dedicated sterilization cycles in the Double Door Autoclaves.

BioGene Sliding Double Door Autoclaves are thus an eminent choice in development of vaccines approved by world Health Organisations and central Pollution Board.
Applications
Features
Control
Construction
Specification
Hospital Waste, Medical & surgical Waste, Industrial Bio Hazard sterilization Non sterile to sterile movement.
Double Door

Dry and wet sterilization

Confirm to EMD 93/42/EEC

PID Controls

Graphic & Logs

Radial Lock

On Line Printer
Touch Screen

Digital Temperature

Digital Timer

Pressure control

Dry wet cycles

Alarm

Over Temperature

Pressure Cut OFF Device

Autoclave confirms to: ISO 13485, CMDCAS, FBAS, GMP. 21 CFR PART II software, NIST, OM-CP-AVS140-1/6.
Triple walled

Stainless steel 316 / 304.

Microprocessor Based Controls

Steam Generator 304/316

Vacuum Breaker

Solenoid valves

Automatic water cut off device

Trolley, carriage, Trays

Digital Temperature, Time, Controls

Pressure controls.
MODEL

BTI-RA-DD10

BTI-RA-DD12

BTI-RA-DD16

BTI-RA-DD55

Make

BIO GENE

Technical Matrix For

Lab

Temperature range

115ºC-121ºC
(Optional 132 ºC and above)

Trays

2

Temperature Sensor

PT 100

WORKING PRESSURE

15 to 22 p.s.i

Inner chamber

Stainless Steel Sheet (SS-304)

Outer chamber

Stainless Steel Sheet (SS-316)

Temperature Controller

Microprocessor Based Programmable Controller

Heat Load

6 KW/ 9KW/ 9KW/ 9KW

Nominal Voltage

220-230 Volts, 50Hz Single Phase

SIZE

450 x 450 x 900mm

600 x 600 x 900mm

600 x 600 x 1200mm

900 x 900 X 1800mm

CAPACITY-LTRS

180 LTR

340 LTR

450 LTR

1550 LTR