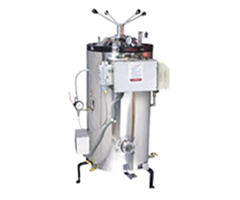 Bio Gene Vertical Autoclave Double/Triple walled are designed to meet high pressure high vacuum application in Autoclaving. Synthetic Quartz crystals production is one such application besides the sterilization of media, culture once the Autoclaving is done the media cultures free from Viruses, Bacteria, Fungi, Thus make them Reusable.

Bio Gene Autoclaves are also offer with F. naught Value to control the sterilization usually set at 121ºC at 15ºC psi No wonder Bio Gene Autoclaves are used all over the Globe.
Applications
Features
Control
Construction
Specification
VERTICAL AUTOCLAVE is widely used in Research Centers, Major Universities, Pharma, Biotech, Medical research, Hospital, Diagnostics, Agriculture science, Pharmacology, Immunology, Genetics, Bioengineering Biotechnology, Microbiology, Botany, Zoology etc.
Stainless Steel Body.

Anti-bulging & fuel saver base for extra strength, fuel & time saving, anti-bulging lid for additional strength.

ISI marked gasket made of food grade synthetic rubber for longer & better performance and hygiene.

Fusible plug type safety valve and gasket release system (grs) for triple safety.

Color-coded pressure gauge to indicate safe and danger zones.

Weight type safety valve & pressure regulating device for better safety and reliability.

Vacuum release & steam release valves made of stainless steel to avoid breakage & stitle deposits.

Handles & valve knobs made of very durable, heat resistant & fine quality Bakelite to avoid breakage.

ISI marked heating element made of heavy pipe with better quality chrome plating for longer life, fitted with specially designed silicon rubber washer to protect from leakage around the element.

Specially designed rubber cable (in semi-automatic autoclaves) capable of comfortably bearing the heating load. Special rubber material used to make it water, heat, wear & tear and electrical fault resistant.

High quality 3-pin plug and element connector (plug) for better safety & easier extensibility of the cord.

International quality timer (in semi-automatic model) for reliable performance & to avoid accidents.

Touch Screen with HMI and 21 CFR compliant software (Optional)

Microprocessor Controlled Programming Units.
Microprocessor Based Programmable controls

Time :- 0-99/999 Min

LID Lock :- lockable

Alarm : Temperature Timer

Sterilization : Cycle

Process: Start. End

Air : Class 100

EN: 60601 : 1

EMD : 93/42/EEC
INNER CHAMBER: Microprocessor Based Vertical Autoclave is Double walled units. The inner chamber is made of stainless steel sheet of SS-304 grade.

OUTER CHAMBER: The Outer body of our Autoclave is constructed out of mild steel sheet.

Microprocessor based Autoclaves are insulated from inside with Thick Mineral Glass Wool insulation.

The strong lid constructed out of thick steel plate which is lined from inside with Stainless steel sheet of Stainless Steel -304 grade.

The Lid has a double safety radial locking arrangement, which ensures an easy and smooth opening and closing operation.
Vertical Autoclave used for sterilization under saturated steam pressure at any selected point between 15 to 20 psi (adjustable).
These units have inner chamber (Boiler) made of 18 S.W.G. stainless steel (SS – 304 grade).

Outer wall is covered with M.S. sheet. Mild steel sheet.

Thick steel lid is tightened by radial locking system and can be lifted through a pedal lifted device for user comfort

Fitted with joint less neoprene rubber gasket.

Pressure gauge : 0 to 2.1 kgf/cm2 (30 psi)

Systems are hydraulically tested up to 40 psi, as a safety measure.

Autoclaves are fitted with standard accessories such as water indicator, pressure gauge, steam release cock, spring loaded safety valve, pedal lifting device and heating element.

Water level indicator with automatic low water level cut off.

Water inlet and drain valves.

Space between boiler and outer shell works as Insulator.

Supplied complete with Stainless Steel basket, cord and plug.
Model

BTI-VA-22

BTI-VA-40

BTI-VA-50

BTI-VA-80

BTI-VA-98

BTI-VA-187

BTI-VA-300

Make

BIO GENE

Technical Matrix For

Lab

Temperature range

115

º

C-121

º

C

Basket

1

Temperature Sensor

PT 100

WORKING PRESSURE

15 to 22 p.s.i

Inner chamber

Stainless steel sheet (SS 304 Grade)

Outer chamber

Mild steel sheet

Temperature Controller

Microprocessor Based Programmable Controller

Heat Load

6 KW/ 9KW/ 10KW/ 10KW/ 12KW

Nominal Voltage

220-230 Volts, 50Hz Single Phase

CAPACITY-LTRS

22

40

50

80

98

187

315

SIZE

250 X 450mm

300 X 500mm

350 X 550mm

400 X 600mm

450 X 600mm

550 X 750mm

650 X 950mm