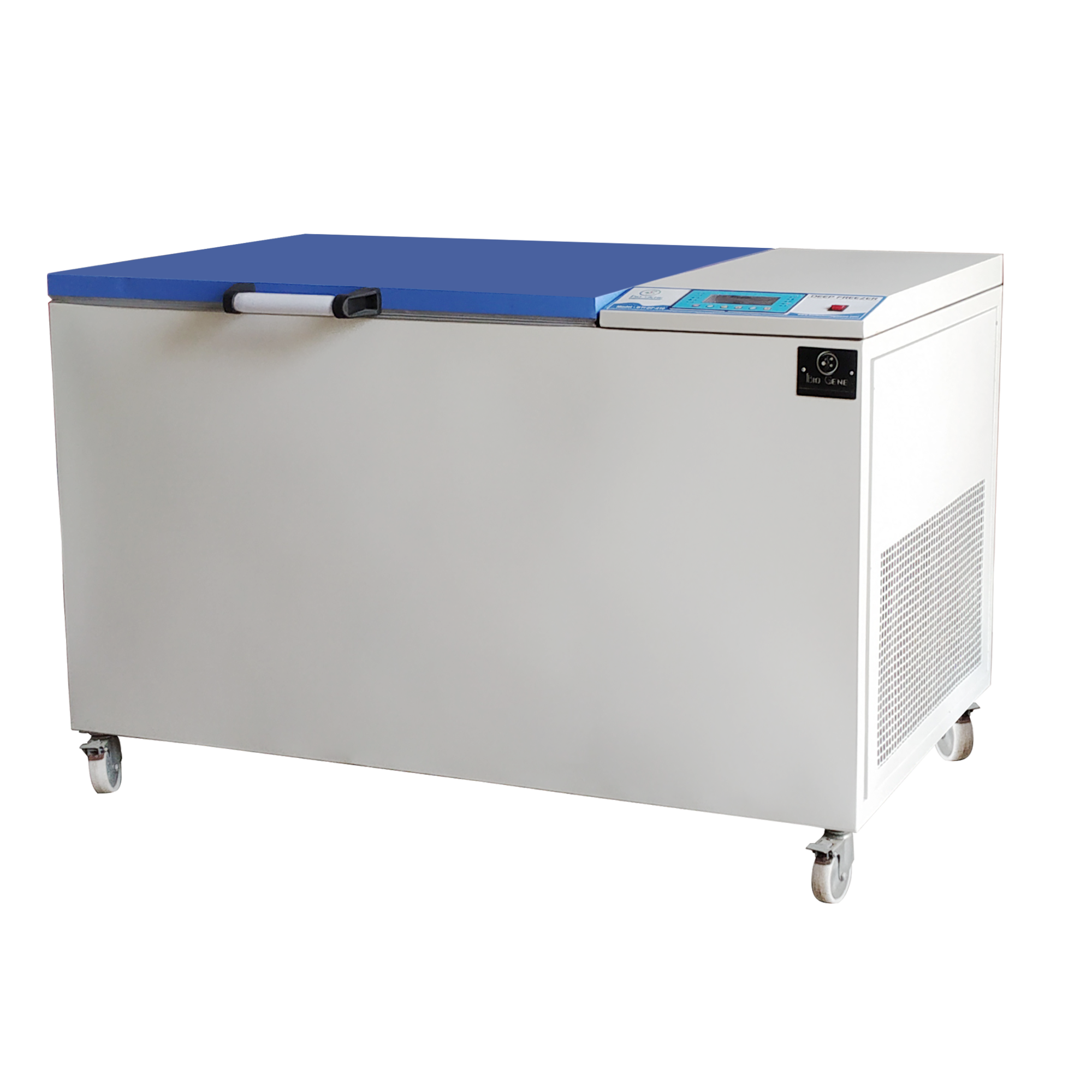 BioGene Plasma Freezer provides an ideal freezing environment for the preservation of Plasma, and test samples. The instruments outer body is made of heavy gauge Mild steel duly powder coated with stainless Steel (304) Inner Chamber. This unit Designed to maintain a stable and uniform temperature of up to -80°C. The user-friendly design includes a built-in Stainless steel insulated inner door, and simple calibration is possible via the control panel. Ensures that your samples are both safe and secure, but also easy to access when you need them.
Applications
Features
Control
Construction
Specification
Deep Freezer are widely used in
Hospitals and Medical Facilities & Lab

PRP Gravimetric analysis

Laboratories

Research Centers Universities

Blood Bank & plasma Bank
TFT touch screen display.

Digital Temperature Display

7 Days chart recorder, with a battery backup for 2 hours (OPTIONAL AT EXTRA COST)

No ice formation in the area around the wells and in the retention gaskets.

Electronic recorder and bar code reader, also possible to set a work schedule for single batch freezing

Internal temperature during the

loading phase of the plasma bags.

Safety system to avoid negative temperature

Provision for visibility of item stored

CFC and HCFC Free

External Voltage Stabilizer

Triple gasket (Absolute retention guarantee against air entry) in silicon rubber with welded joints.

The refrigerant system should be completely sealed: it uses a cascade circuit

2 hermetic compressors.

Provision of reading and recording up to a maximum of 8PT 100 channels.

Enabled with a clean digital input for synchronizing the start of recording with the start of the unit abatement

Historization cycles /Codes on SD card-export of cycles/codes via USB port

The geometry of the wells is conical, to simplify extraction and formation of the solid bag.

Quality of frozen plasma, the recovery of 96% fibrinogen and 81% of concentration of factor VIII.
Human Machine Interface with TFT touch screen display.
The adapted principal of thermal exchange, in this case, does not use a cold bath at -40 ° C, but -80° C surfaces, with which the bags are in direct contact.
Freezing time :< 45 minutes for 24 bags (450ml).


BioGene Freezer for 24 bags is a Horizontal Freezer, where the plasma bags are placed in Horizontal/vertical position.

Under counter solid, self-closing door maintains optimal storage conditions and is field-reversible

Material: Inner corrosion free, stainless steel

Outer:

The Outer body of Bio Gene Deep Freezer is made of Heavy Duty galvanized steel body with duly tough powder coated.

Recessed floor contains spills for easy clean up and maintain integrity of other stored products

Key lock, settings security and optional access control

The surface of the wells to be smooth and made of glazed Inbox AISI 304 steel, without edges, and therefore permits the safe storage against accidental breaks or bumps of the bags.

Internal case made of 6 wells

The gap between outer body and inner chamber is filled with PUF/VIP insulation.
Brand

Bio Gene

Model No.

BTI-ULDF-150

BTI-ULDF-250

BTI-ULDF-300

BTI-ULDF-350

Nominal Storage Capacity, Blood Bags*

24 pcs

Inter Case

6 wells

Control System

Microprocessor Based PID controller

Freezing Time

< 45 minutes for 24 bags (450 ml)

Safety System

Lockable On-Off Key

Temperature Display

TFT LCD Display Human Machine Interface with TFT touch screen display. (Not affected by power cut)

Temperature Reading and Setting Sensitivity

1°C

Temperature Sensor

8 PT -100

Temperature Range

-80°C

Power Failure Alarm

Audible and Visual

Door Alarm

Audible and Visual

Drawer Structure

65 dB

Isolation (CFC free)

High Density Injected Polyurethane

Gasket

Triple layer rubber gasket fitted exterior door

Circular Temperature Recorder

Yes

Historization cycles

codes via USB port

Inner Surface Structure

Stainless Steelsss

External Surface Structure And Quality

Powder Coated

Caster Wheel

4 Nos (2 Caster Lockable)

Number of Compressor

2

Power Supply

230 V - 50 Hz

ACCESSORIES

External Voltage Stabilizer