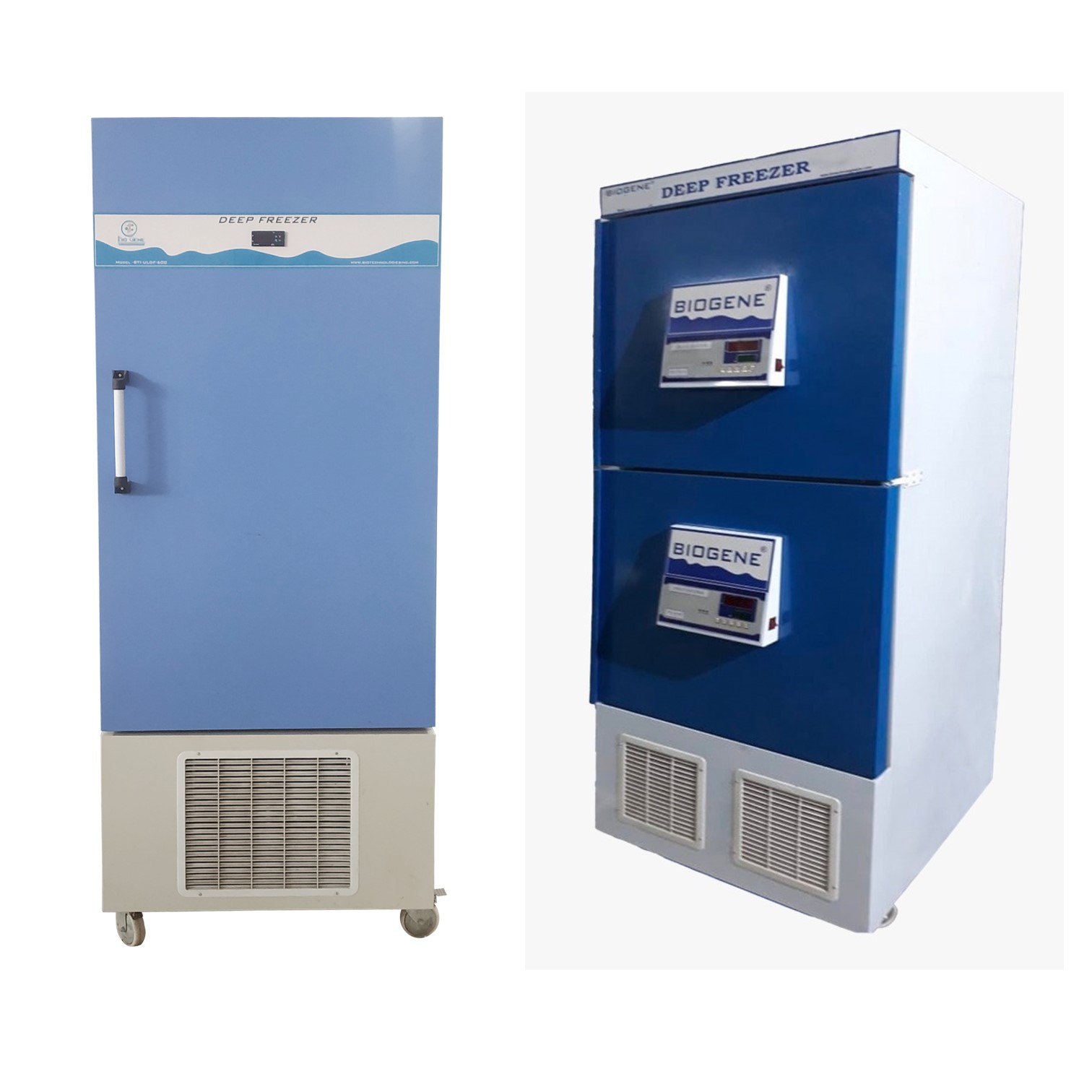 Upright Freezer -40ËšC when preservation or long duration Storage of fine chemicals, Micro Organisms, Media is the need, use Bio Gene -40ËšC Upright Freezer.

These -40ËšC deep freezers are used in steel industries for the test of billets, preservation of cultures enzymes, or fine chemicals is need in the labs. BioGene Generates uniform temperature due to the Cryogenerater and displacement of compressed energy being unique, Microprocessor control add the desired flexibility for Research Algorithims.
Applications
Features
Control
Construction
Specification
Upright Freezer widely used in Universities, Microbiology, Genetic, Biotech, Chemical, Pharmaceutical Process, Concrete Cooling, Fish, Poultry Processing, Hospitals, Laboratories, Physiotherapy, Frozen meat Processing, Blood Banks, Epidemic Prevention, Animal Husbandry areas, Electronic and Chemical Laboratories and Research Institutes. Designed to store Blood Plasma, Vaccines, Biological Materials, testing reagents and Laboratory materials.
Quick Freezing Function

High Temperature Warning Light

Digital Micro Processor

Controller with Display

Highly efficient famous brand compressor and fan;

CFC-Free overall situ polyurethane foaming insulation;

CFC-Free refrigerant.

Bio Gene Us Technology CKD Machine.

The exterior shell and interior walls are constructed of heavy-gauge cold-rolled steel, which conducts temperature more efficiently than stainless steel.

Vertical type with twin door and adjustable shelves.

Double walled units have thick PUF insulation between inner and outer wall.

Biotech Application with operating temperature of -10ËšC ˜ -40ËšC

External casing is stainless steel. Powder coated
TEMPERATURE CONTROL
Microprocessor control, digital display of inner temperature, the inner temperature can be adjustable at the range of -10ËšC ~ -40ËšCï¼›

LCD running status and alarm information;

Over temperature alarm system, set the alarm temperature as requirements;
Control System:
Microprocessor control system with enhanced electronic technology

Microprocessor control, digital display
DISPLAY:
Bio Gene System has digital display with Controlling.
ALARM SYSTEM:
Alarm system for high and low temperature visual warnings for over temp, under temp. & power failure, with visual status reports on critical functions.
DOOR:
Door outer one solid steel with keyed door lock handle

Single door solid, non transparent.

LED Display.

Bio Gene Microprocessor based controller.

Hermetically sealed compressor with CFC and HCFC free refrigerant.

Sensor failure alarm.

Alarm for high/low set parameters.

Electrical circuit breaker.

Time delay for compressor switch on.

Overload cut of relay for compressor.

Key Board lockable

Actual temperature LED display for better visibility.
SAFETY CONTROL
Malfunction alarms: high temperature alarm, low temperature alarm, Sensor failure, Power failure alarm, Door jammed, low voltage of backup battery;

Two alarming methods: buzzer alarming and digital flashing alarming;

Protection function: power-on delay, time between stops;
OUTER MADE CRCA Steel DULY Powder coated

Insulation: PUF with Cyclopentane, 4 inches.

Caster mounted.

High Efficient Special Evaporator Defrost System.

Fitted With Castor For Easy Movement.

Complete with Electric fuse, Safety fuse, Shock protected.

Heated door scales for preventing Ice Formation on the doors.
REFRIGERATION SYSTEM:
CFC free Eco Friendly Refrigerant Gas.

Efficient relays and starting capacity.

Fin and tube type air – cooled condense.
ERGONOMIC DESIGN
Safety door lock, preventing unauthorized access;

Wide voltage design from 187V to 242V;

Maintenance free condenser design;

25mm access port;

Pressure-balanced port design, easy to open the door;

Heavy type caster and locking adjustable screw, easy to move and fix.
POWER SUPPLY
Single phase, 230+/-10 volts 50Hz
Model No (-40)

BTI-DF-150

BTI-DF-200

BTI-DF-250

BTI-DF-300

BTI-DF-400

BTI-DF-450

BTI-DF-550

BTI-DF-650

DESCRIPTION

Deep Freezer

TEMPERATURE RANGE

10ºC ˜ to 40/45ºC

TEMPERATURE Accuracy

±1ºC

DIGITAL DISPLAY

Microprocessor Based Controller/Dual Controlle

LOCK

yes

No Of SHELVES

2,3,4,5,6

WHEELS

4

NO OF DOORS

1 Solid TYPE/2 Solid TYPE

Refrigeration

Independent/Dual

CAPACITY LITERS

200

250

300

400

450

550

650