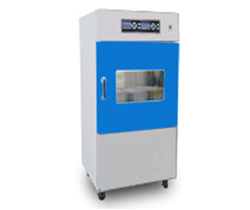 Bio-Gene Understands the need to modulate artificially the environmental stability test chamber manufacturer so that the Extreme temperatures Humidity, Vibrations even Corrosion is to be determined on Electronic Components Chemicals, drugs, Microorganisms, etc under IEC 60068, MIL STD810, CE, ROHS standards.
Biogene Environment Test Chamber: Creating the Ideal Environment for Industrial, Scientific Research all over the Globe. Introduction: The Biogene Environment Test Chamber are manufactured in India and used in Gulf, Far East Asia, South America, It is an innovative and cutting-edge facility designed to provide scientists and researchers with a controlled environment for conducting experiments and tests. This state-of-the-art chamber offers precise control over temperature, humidity, and other environmental factors, allowing for the simulation of various conditions to study the effects on biological samples, plants, and organisms. In this article, we will explore the features and benefits of the Biogene Environment Test Chamber, highlighting its significance in advancing scientific research and discovery. Accurate Environmental Control: One of the key features of the Biogene Environment Test Chamber is its ability to maintain precise control over environmental variables. Temperature Range -300C to plus 1000C, humidity Range 35 rH to 95 rH airflow, conditions can be adjusted and customized according to the specific requirements of the experiment. This level of control ensures that researchers can create an ideal environment to study the impact of environmental factors on living organisms and biological processes. Versatility and Customizability: The Biogene Environment Test Chamber offers a high degree of versatility, making it suitable for a wide range of research applications. Whether studying plant growth, microbiology, tissue culture, or insect behavior, this chamber provides the flexibility to recreate various environmental conditions.
Applications
Features
Control
Construction
Specification
Environmental chamber is an enclosure used to test the effects of specified environmental conditions on biological items, industrial products, materials, and electronic devices and components.

Bio Gene Environmental chamber can be used:
as a stand-alone test for environmental effects on test specimens
as preparation of test specimens for further physical tests or chemical tests.
as environmental conditions for conducting testing of specimens
Microprocessor based Environmental chamber controller with Auto tune PID Temperature Control.

Soft Power on switch

128 x 64 BLUE Graphical display shows company name and LOGO.

5 Soft Touch keys to control the different parameters

Programmable profile control programs for automatic operation.

Real time Clock

SSR based output controls for Heater, cooler, Humidifier, Dehumidifier.

Safety and Convenience over temperature and current protection capability

Temperature Alarm

Self Diagnostic Function
Standards : ISO,EN, CE, Electro magnetic

MDD :- 93/42/EEC

EN 61000-6-1 : 2001

EN 61000-6-3 : 2001

IEC 60068-2-1

IEC 60068-2-2

Electromagnetic Compatibility Directive (89)/336/EEC)

EN: 60101, ISO, CE
THE INNER CHAMBER Bio Environmental Chamber is made of heavy gauge solid Stainless Steel sheet.

OUTER BODY of our Bio Gene Environmental chamber double walled constructed out of Cold Rolled Powder Coated.

Stainless Steel Tubular heater is fitted for better circulation

Bio Gene Microprocessor Based Advance CKD Programmable controller provides automatic operation of variable temperature, humidity value

The stainless steel shelves are adjustable and perforated, making them easy to clean and highly resistant to corrosion.

Bio Gene Environmental Test temperature Technical Design and Construction Silent fan motor to maintain uniform temperature and humidity Angle Iron frame.

Castor wheel for easy movement (for Refrigerated model).

Technical Design and Construction Silent fan motor to maintain uniform temperature and humidity.

Circulation motor for water injection in routine model inside the control unit & Chamber.
HUMIDITY RANGE:
5% to + 95% RH ± 3RH.

DEHUMIDIFICATION
Refrigeration based de-humidification system is used. The desired level of lower humidity will be achieved by maintaining the precise dew point temperature. The output will automatically be activated based on the set point as well as in ramp up mode after a low temperature cycle.

CFC Free

Precise Hot Air & Humidity

Puff Insulation keep the surface Temperature comfortable

Silent Hot Air Blower,

Unique design of Air Circulation.

Humidity circulation.

Improved Temperature Humidity distribution.

Unique design of Ventilation.

Stainless Steel Tubular heater J shape is fitted in the steam Bath for long life & better result.

Day and Night Controller so as to set two different temperatures for day and night or through a DIGITAL MICROCONTROLLER.

Illumination fluorescent tubes IN the chamber.

Cyclic illumination conditions are regulated by automatic Microprocessor based programmable timer.
DESCRIPTION

BTI/ESC/04

BTI/ESC/06

BTI/ESC/10

BTI/ESC/12

BTI/ESC/20

BTI/ESC/40

BTI/ESC/50

BTI/ESC/60

BTI/ESC/75

Temperature Range

5 to 60 ËšC

Temperature Control

0.1ËšC

Temperature uniformity

+ 1.20ËšC

+20 ËšC

Temperature Stability

+ 0.1ËšC

Temperature sensor

3 wire RTD

Humidity range

5 ± 95 % ± 3RH The humidity level shall be maintained throughout the operating temperature range

Humidity Stability

± 5 % - 7 %

Humidity Control

+ 2% RH

Humidity Sensor

Capacitive

Interior construction

Stainless Steel 304

Exterior Construction

CRCA Powder coated

Electrical

AC 220 V/ 110, 50 Hz (optional)

Shelves per chamber

3 nos.

4 nos.

DIMENSION (W X D X H)

450x350x560

505X415X830

570X550X875

650X550X900

775X775X900

1500X1200X750

1500X1200X950

1500X1500X900

1500X1500X900

SIZE

114 ltr

171 ltr

280 ltr

336 ltr

560 ltr

1132 ltr

1415 ltr

1690 ltr

2123 ltr