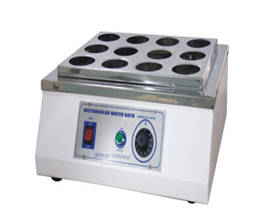 Bio Gene Boiling Water Baths are one of the essential Equipments for any Lab Operation.

Bio Gene Baths are very useful as they accommodate flasks of different capacities due its concentric Ring set capable to adjust according to the flask capacity.

There bath are used for Incubation at Constant Temperature while Evaporation is in process and also for Chemical Reaction which need High Temperature and colonic values.
Applications
Features
Control
Construction
Specification
Bio Gene Boiling Water Baths are Double Walled unit in, Pharma, Biotech, , genetics, Bioengineering Biotechnology, Microbiology, Botany, Zoology etc

Used in Bacterial Examination, Protein/ analysis, Serology Testing, Food Processing and Research Centers, Major Universities, Medical research, Hospital, Diagnostics, Agriculture science, Pharmacology, Immunology.
Corrosion

Low water

Level indicator

Circuit beaker

Alarm, Time, Temperature

Large Area hating

Available in 6, 8, 10, 12 holds.
Microprocessor PID temperature controller with integrated auto diagnostic system with fault indicator

Solid state switching unit

One PT100 sensor class a in 4-wire-circuit

Integrated digital timer from 1 min. To 99,59 hours for:

On continuous operation

Wait (delayed on for continuous and limited timed operation)

ASTM 304, EN 60601,CE
Bio Gene Water Bath for boiling and general purpose Applications.

Easy-to-clean interior, made of stainless steel, reinforced by deep drawn ribbing, material no. 1.4301 (ASTM 304), laser-welded

Fabricated using long lasting single walled Tubular element to ensure durability.

With thick gauge stainless steel made lids that possess 6 holes. with concentric rings.

Safety: Electrical over Temperature cut off device is mounted in the control Panel with circuit Breakers.

Bio Gene water bath is fitted with Low water Level device Glass mounted with marked Indicator Alarm to easy the function and protect the Heater getting burnt due to no water.

Bio Gene water bath control panel has easy views Power on Switch and Indicator.

The water bath also has smooth operator friendly Temperature Variation knob.
Model
BWB-2
BWB-3
BWB-5
BWB-8
BWB-10
BWB-15
BWB-20
Temperature Range (Metric)

Ambient to 99.9°C

Cabinet Material

Epoxy powder-coated steel

Chamber Material

Stainless steel

Temperature Presets

Temperature, Time

Temperature Uniformity

±0.2°C

Amperage

1.5-1.8 / 0.7-0.9 (120V/230V)

Certifications/Compliance

UL, CE

Controller Type

Digital

Display

LCD/LED

Includes

Clear Polycarbonate Gable Cover/ stainless steel, Diffuser Tray, and Rubber Duck

Temperature Stability

±0.1°C

Bath Volume

2

3

5

8

10

15

20 ltrs

Heating Capacity

200 -1000 W