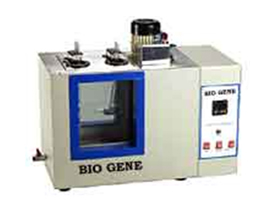 Bio Gene Solution to Estimation of Kinematic Viscosity of Oils Fluids, fuel, Petroleum products Crude Oils demands Correct Constant Temperature.

Bio Gene KINEMATIC VISCOMETER BATH are the companions built in conformity to ASTM 2983, 2170 & D445/97.
Applications
Features
Control
Construction
Specification
Bio Gene Cooling Kinematic Viscometer Bath are an ideal companion In Industries of food, Automobile chemical, Petroleum, Pharma where determination of kinematic viscosity of lubricating oils, gear oils fuel, petroleum products and edible oils are concerned.
Meet ASTM D445 & IP-71 standards.

: Available with and without refrigeration

Over temperature & low bath level protection

:- Can accommodate 2, 6 & 8 viscometers

High grade stainless steel inner Chamber.

: Digital temperature controller.

Stirrer.

: Stainless Steel Shaft, illumination
Kinematic viscometer bath

(IP-97/97, ASTM D-445/97)

ASTM D 2983, 2170 11P, 267 IP 71

ISO 9262 D445

MICROPROCESSOR BASED DIGITAL TEMPERATURE CONTROLLER cum INDICATOR relay and contact thermometer.

MICROPROCESSOR PID Digital timer.

Temperature range RT 0°C temperature to 100°C.

Accuracy + 0.1°C

Digital Resolution :0.1°C
Bio Gene Kinematic viscometer bath is used to maintain the correct constant Temperature for estimating Kinematic Viscosity of Oils & Petroleum product.

Various Viscometers are fixed as an internal part of bath.

Silent circulating pump, stirrer with 1/20 HP motor, that ensures uniform circulation of liquid inside the chamber bath

Inside tank is made of Stainless steel sheet. On two sides toughened glass is provided for full visibility of objects. Outer chamber made of CRCA sheet duly finished in powder coating.

The bath is rectangular in shape. Double walled with toughened double glass observation sides Glass window walls for easy inside view while in process observation is made.

The bath has 4 to 8 holes for properly holding viscometer tubes of different sizes.

Provision of illumination is also available in the viscometer bath.

Viscometer tube holders and S.S. cover are in standard scope of supply.
Model
BTI/KVB-H18
BTI/ KVB-H38

Inner Size

300X200X300mm

400X275X350mm

Size

4 Viscometers

6/8 Viscometers

Temperature Range

5°C above ambient to 150°C

Temperature sensor

PT-100

Temp. Controller

PID Temp Controller w/ Accuracy ±0.5°C

Construction

- Inner chamber: SS 304 /316
- Outer chamber: MS powder coated
- Insulation: Glass wool
- Window: 2 side toughened glass windows
- Light: 1 tube light

Heating System

Heating by tubular Heater vertically fitted in side chamber (2.0 K.W)

Stirring

Stirring by S.S. shaft fitted with Motor

Power

230 Volts 50 Hz

Accessories

Viscosity holder, universal type

Optional Accessories

Glass U tube Viscometer Size A, B. C, D, E, F, G, H
Reserve Flow Viscometer BS/IP/RF NO 2,3,4,5,6,7,8,9,10,11
Oswald Direct Viscometer ASTM-445-467 Size 50-500
Suspended level Viscometer BS/IP/SI : 1:1A, 2 : 2A, 3: 3A, 4: 4A, 5: 5A,
Cannon Fenske Viscometer ASTM 445 BS/IP/CD 100-600
Cannon Fenske for opaque liquids Viscometer ASTM 445 BS/IP/CD 100-600
Thermometer Viscometer 0-200º

C

Optional

- High / low temperature baths.
- Fluorescent lamp
- IQ, OQ, PQ & DQ documentation
- Voltage stabilizer