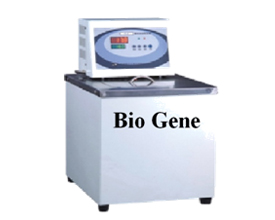 Bio Gene series constant temperature water bath is equipped with a microprocessor Based PID control system with Circulating pump, it can let the heated liquid flow off from the tank and thus establish a constant-temperature field.

Bio Gene provides users a working Environment where Cool or Hot Temperatures are controlled according to the application at uniform temperature.
Applications
Features
Control
Construction
Specification
Bio Gene Circulating Water Bath Chiller are Fitted with an ultra-Low temperature alarm system.

Circulating Water Bath Chiller specifically Designed to work in the challenging demands of various specialized research applications.

To Defense Installations, Research Laboratories, Educational Institutes and various R& D laboratories of leading national and multinational companies for all Fuel, Petroleum products analysis.
SALIENT FEATURES
Versatile usage.

Ergonomic Design

Energy Efficient

Long life

Low Maintenance

Calibration And Protocol Documentation

Auto tuning
Two color (Red and Green) LED display with dual window. Available is a large screen LCD display.

Temperatures is programmed by touching the soft keys which is easy to operate.

The Micro computer Display Accuracy 0.1ºC or 0.01ºC.

Alarm
Microprocessor Based digital Temperature Controller.

Temperature Accuracy: ± 0.1°C at 37°C

Readability: 0.1°C

Temperature Sensor: PT - 100

Temperature Controller: Solid State Microprocessor Based digital Temperature Controller

Display: LED/LCD

Adjustable alarm limits.

POWER CONSUMPTION Nominal voltage: 220-230 Volts, Single Phase

Frequency: 60 Hz 6.5 A, 1.4 KW

Castor Wheels with Lock to have Free Handling of the Equipment.
Bio Gene Circulating Water Bath Chiller are double walled convection heated units.

Outer body of our Circulating Water Bath Chiller is constructed out of thick Stainless Steel sheet of SS 304 Grade steel.

Inside chamber of the unit is made of heavy gauge stainless steel sheet of grade ss-304.

The unit is provided with top opening cover, made of stainless steel with steel concentric rings.

The Circulating Water Bath Chiller is provided with one stainless steel Diffuser racks.
HEATING:
Indirect heating system is provided in our water bath, comprising of air heaters made of high grade Kanthal A-1 wires of suitable wattage..
The temperature is evenly distributed throughout the chamber through natural water convection mechanism, ensuring very good temperature sensitivity by High technology.

Circulation Pump :
The unit is fitted with circulation pump 15 liters/hr per Discharge Pressure 1.2 Bar, with contact parts of stainless steel brass.
Outlet Nozzle for circulation Liquid.

Microprocessor Based digital Temperature Controller.

TEMPERATURE RANGE:
Temperature range of our standard Circulating Water Bath Chiller models are 5ºC to 100ºC However we have the capacity to modify the same to suit the individual specialized requirements of our customers.

Temperature sensitivity
Temperature inside our water bath is controlled with a sensitivity of ± 0.05°C.

FRONT PANEL
Front panel of our water bath comprises of on/off switches heating and mains indicator lamps and temperature controller.
| | |
| --- | --- |
| Bath Capacity | 15 Lt. |
| Heating | 2-0 kw |
| Cooling | 7.5 kw |
| Temperature Range | 5°C to 100°C |
| Display | LCD/LED |
| Accuracy of Control | ±0.1°C |
| Temperature Rise (30 Min) | 100°C |
| Load | 10 Kw |
| Single Phase | 60/Hz |
| Quality | CE/ISO/GMP |

OPTIONAL ACCESSORIES
Timer (999 mins)
Program ( Real Time)

Data Acquisition Program

Serial Port (Printer) RS232C

Inspection window in door