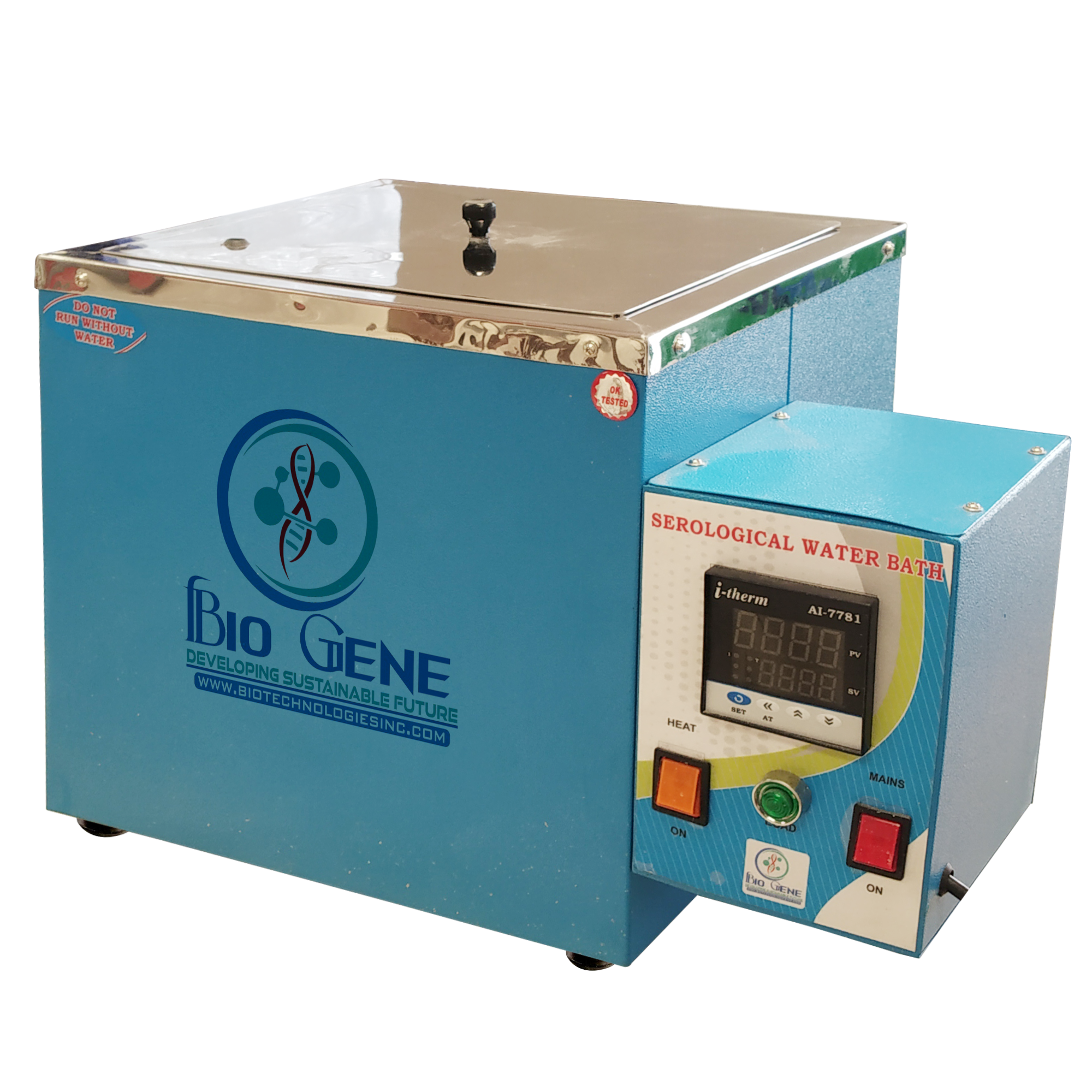 Bio Gene BTI-WB-14 Water Bath the most wanted equipment in research centers. Pathological lab universities as the design to meet the regress demand of heating and reciprocating shaking of aquies substances in the laboratories where temperature is used for hating while evaporating where constant temperature is used over long period of time digital PID controller with alarms help the Scientist perform better while chemical reaction takes place.
Applications
Features
Control
Construction
Specification
Bio Gene™ Serological water bath BTI-WB-14 are widely used in
Electronic Industry for Delicate Parts

Hospitals and Medical Facilities

Dental Office & Laboratories

Industrial Manufacturing

Engineering Industries

Research Centers

Universities
Microprocessor Based PID controls

Top Dome shape cover avoid evaporation of water & make condensed water to fall back in the Bath.

Drain Plug made of brass duly nicked on the side / Back of the Bath

Full feature with Digital Temp. Controller Cum Indicator or Microprocessor Based PID Temperature Controller Cum Indicator

Removable diffuser plate having lotus clamps for various of flask

Long life immersion stainless pipe heater

Large bath opening immerse samples conveniently.

Sturdy construction

Optimum performance

Less energy consumption
Microprocessor based controller

Temperature : RT -5 - 100°C

Time : 0-99 min

Temp Accuracy: ± 1°C

RPM :0-80 strokes/min
Serological Water Bath is double walled equipment with inner chamber and lid made of stainless steel.

Outer body is made of Mild Steel powder coated or Stainless Steel 304 grade steel.

The Reciprocator is a limit which moves on camp with adjustable strokes.

Find heater is place at the bottom of bath to generate evaporation faster.


The water bath is mounted on nonskid rubber lags or trouble free operation.
Temperature Range: 5ºC Above Ambient to room temperature 100°C

Temperature Stability: +-0.5°C

Sealed (Leak Proof)

Insulation: Glass wool/ Mineral Wool

Digital PID control for quick heat up and precision control through out the temperature range

Shaking Tray: 1 No. Select Cap.

Bath Opening: S.Steel Dome Lid

Temperature Accuracy: + 0.5ºC, With Digital temperature controller.

Material: Inner Stainless Steel body (316L) Outer Stainless steel (304L) BIS approved model

Bio Gene Water bath material which is rust free from both inside and outside.

Stability at 37°C +-0.1°C

Uniformity at 37°C +-0.1°C

Consumption: 220/ 230V AC Supply 50Hz Single Phase

Digital Resolution: 0.1°C

Digital Setting: 0.1°C

Linear – shaking speed range : digital/3 digital /3- Digit LED

10-80 RPM

Control Panel: Digital Temp. Controller cum Indicator, Mains Line

Electrical supply : 230V, 60Hz

Obligatory Accessory : Compatible voltage stabilizer

Button to set nominal value 0.1 0C Duty Cycle: Continuous
Bio Gene CE Certified.