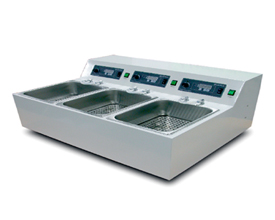 Bio Gene Multi Chamber Water Bath are specifically Designed to meet the challenging demands of various scientists for individual and specialized research applications. Over a short period of time Bio Gene have been established as reliable Manufacturer of Multi Chamber water bath, catering to the vast markets in South East Asia, Middle East, Africa and Europe America etc.
Applications
Features
Control
Construction
Specification
Water Bath is not only an advanced instrument but also key equipment for immunology, genetics and bioengineering. It is widely applicable for research and production of microorganisms, agricultural science and pharmacology as well as.
Electronic Industry for Delicate Parts

Hospitals and Medical Facilities

Dental Office & Laboratories

Industrial Manufacturing

Engineering Industries

Research Centers Universities
3 Baths Chamber Models have independent controls for operating at different temperatures, ideal for industrial, pharmaceutical, clinical and biomedical use.

Easy-to-use membrane touch type front mount controller

Stainless Steel corrosion resistant (SUS304) bath.

Over Temperature Protection & over current leakage breaker ensure user safety

Drain Valve let you easily drain off water from each bath.

Analog controlled low cost are also available.

Digital Fuzzy Controller Implementing Maximum Temp. Accuracy

Stainless Steel Bath for Superior Durability & High Thermal Efficiency
Stainless Steel Lid Prevents Evaporation and keeps Constant Temperature.

Locking Mode Supported for Experimental Safety.

Small and large capacity Bath

Top Plain shape cover avoids evaporation of water & makes condensed water to fall back in the Bath.

Drain Plug made of brass duly nicked on the side / Back of the Bath.

Full feature with Digital Temp. Controller Cum Indicator or Microprocessor Based PID Temperature Controller Cum Indicator.

Removable diffuser plate having lotus clamps for various of flask

EN: 60601 : 1

EMD : 93/42/EEC

EN 61000-6-1 : 2001

EN 61000-6-3 : 2001

Electromagnetic Compatibility Directive (89)/336/EEC)
Inner Stainless Steel body Outer Stainless steel (304L)

Temp. and Time in each Chamber are Controlled independently

The gap between the walls is filled high-grade glass Wool, which ensures maximum thermal efficiency in our water bath.

Microprocessor PID Control for 0.1°C Accuracy have Independent Controls for Operating at Different Temperatures.

Timer, Alarm, Auto-Tuning Function

Precise Temperature Control up to 99°C

Built-in Safety and Convenience.

Low water cut off device to protect the heater.

Stainless steel finned Heater for fast temperature.

Temperatures overshoot Alarm.
MAKE

BIO GENE

MODEL NO.:

BTI/MWB/2

BTI/MWB/3

BTI/MWB/5

Temperature Range

5°C Above Ambient to room temperature 100°C

Temperature Stability
±

0.5°C or Sealed (Leak Proof)

Temperature Accuracy

+ 0.5 ºC, With Digital temperature controller

Stability

37°C +-0.1°C

Uniformity

37°C +-0.1°C

Digital Resolution

0.1°C

Digital Setting

0.1°C

Insulation

Glass wool/ Mineral Wool

Controller

Digital PID control for quick heat up and precion control throughout the temperature range

Bath Opening

Stainless Steel Dome Lid

Control Panel

Digital Temp. Controller cum Indicator, Mains Line

Electrical supply

220/ 230V AC Supply 50Hz Single Phase

Chamber Capacity

2 Chamber

3 Chamber

5 Chamber