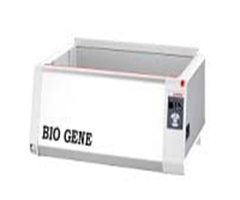 Bio Gene Digital Water Bath Immersion is an Amalgamation of Advance technology & Performance. Whenever the demand is critical. Due to its advance function designed with lab operation and utilities. Bio Gene water baths have drained cocks dedicated temperature controller with the bimetallic sensors. These baths come along with accessories suite to Test tube, flask & Dish.
Applications
Features
Control
Construction
Specification
Bacterial examination crude all analysis, food processing copper strip corrosion test protein analysis, Thawing samples Immunology testing warming sample serology testing Enzyme Reaction.
Temperature +18ºC to +99.9ºC.

Volumes 4.8 to 30 L.

Temperature stability of ±0.2ºC.

Heating Capacity up to 2 Kw

Bright display.

Water Proof display

Low water cut off device.
Microprocessor PID-temperature controller with integrated auto diagnostic system with fault indicator

Solid state switching unit

One pt100 sensor class a in 4-wire-circuit

Integrated digital timer from 1 min. To 99,59 hours for:

On continuous operation

Wait (delayed on for continuous and limited timed operation)

ASTM 304, EN 60601,CE
BioGene Water Baths Immersion for boiling and general purpose Applications.

Easy-to-clean interior, made of stainless steel, reinforced by deep drawn ribbing, material no. 1.4301 (ASTM 304), laser-welded

Fabricated using long lasting single walled Tubular element to ensure durability.

With thick gauge stainless steel made lids that possess 6 holes. with concentric rings

Thick gauge stainless steel made lids that possess 6 holes With concentric rings

Safety : Electrical over Temperature cut off device is mounted in the control Panel with circuit Breakers.

Bio Gene Water Bath Immersion is fitted with Low water Level device Glass mounted with marked Indicator Alarm to easy the function and protect the Heater getting burnt due to No water.

BioGene Water Bath Immersion control panel has easy view Power On Switch and Indicator.

The water bath also has smooth operator friendly Temperature Variation knob.

Concentric (cascading)rings are removed to accommodate Flasks of various sizes
(A) Thermostatically Controlled: Temperature from few degree above to Ambient to 99.9°C
(B) Power : 220 volts .
(C) Capacity : 2-20 ltrs.
(D) Bio Gene Water Baths Immersion, are designed to meet quality standard of Europe (CE)
| | | | | |
| --- | --- | --- | --- | --- |
| MODEL NO | WORKING TEMPERATURE (°C) | TEMPERATURE STABILITY (°C) | HEATING CAPACITY (KW) | VOLUME |
| BTI- WBI-2 | +18°C to + 99.9°C | ±0.2 | 0.25 | 2 ltrs |
| BTI- WBI-8 | +18°C to + 99.9°C | ±0.2 | 0.5 | 8 ltrs |
| BTI- WBI-12 | +18°C to + 99.9°C | ±0.2 | 1.0 | 12 ltrs |
| BTI- WBI-20 | +18°C to + 99.9°C | ±0.2 | 2.0 | 20 ltrs |
| BTI- WBI-50 | +18°C to + 99.9°C | ±0.2 | 4.0 | 50 ltrs |