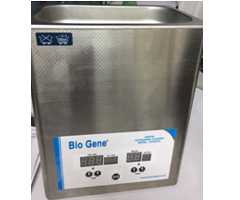 Bio Gene Ultrasonic Baths user Powerful ultrasonic waves to clean up the parts and Equipments in Electronics, Industries, Hospitals, Dental, Labs, Jewellery etc. As the waves each all the curves and Corners where dirt is present.
Applications
Features
Control
Construction
Specification
Electronic Industry for delicate parts

Hospitals and Medical Facilities

Dental office and Laboratories

Industrial Manufacturing

Jewelry Industry for intricate parts

Auto Industry for rugged parts

Engineering industries

Research centers

Universities
Cleaning a wide range of laboratory instruments as well as in other healthcare, medical and industrial applications.
Ultrasonic cleaners are faster, more consistent safer than any other cleaning product that an ultrasonic cleaning process. Hand scrubbing, soaking, or steam does not even come close.

Ultrasonic cleaners are portable high power, Rugged transducers used in automotive, electronics, and metal working industries.

These Ultrasonic Cleaners use engineered ceramics to assure both durability and superior power. Ultrasonic Cleaners are coupled with a new sweep frequency capability, resulting in best possible cleaning every time, all the time.

Homogeneous ultrasonic activity throughout the tank, reducing dead spots and standing waves. Ultrasonic Cleaners process control of time temperature, ultrasonic activity, degas and power.

Ergonomic Stainless steel lid to reduce noise Level and to minimize potential of aerosol escape.

Accurate in process control of time, temperature, ultrasonic activity, degas and power

The ultrasonic activity generated must allow rapid and effective cleaning and processing of a wide range of instruments and components.
Ultrasonic Power Controls

Temperature controls

Noise controls

CE ISO 13485,EN 60601:01
Ultra sonic cleaner from Bio Gene has a Powerful Ultrasonic wave Generator which enables waves to Penetrate all edges.

Double wall constructions the inner and outer chamber is made up of Stainless body Dedicated Microprocessor controls which Generates an ultrasonic frequency 44 ±3% KHZ.

The Temperature regulation is between room Temperature to 80ºC.


Capacity according your requirement is available
Model

BTI-UC-1.8L

BTI-UC-2.5L

BTI-UC-4L

BTI-UC-6L

BTI-UC-9L

BTI-UC-12L

BTI-UC-12L

BTI-UC-16L

BTI-UC-25L

Make

BioGene

Tank Volume (liters)

1.8 L

2.5L

4L

6L

9L

12L

12L

16L

25L

Ultrasonic Wattage

50 W

50 W

100 W

150 W

200 W

200 W

300 W

300 W

600 W

Ultrasonic Frequency

40 ± 3 KHZ

Tank Dimension

150 x 137 x 100

150 x 137 x 150

235 x 135 x 150

300 x 153 x 150

300 x 240 x 150

300 x 240 x 200

330 x 300 x 150

330 x 300 x 200

500 x 300 x 200

Outer Dimension

175 x 165 x 200

175 x 165 x 250

265 x 165 x 290

325 x 175 x 290

235 x 265 x 290

235 x 265 x 340

354 x 325 x 340

354 x 325 x 400

530 x 330 x 420

Heating

Ambient to 80ºC Digitally Controlled (Dual display)

Digital Timer

5 to 60 Minutes

Tank Drain

N/A

Ball Valve

Inner Tank Material

Stainless Steel

Outer Housing Material

Stainless Steel

Power Supply

220 Volt, AC 50 Hz, Single Phase