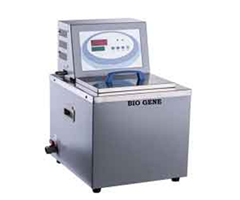 Bio Gene Water bath (circulation) is capable to run for long duration experiments where water temperature is require to be constant. Fast heating and uniformity of temperature makes the Bio Gene water Bath versatile as it can circulate hot water or oil through its pump.
Applications
Features
Control
Construction
Specification
Widely used in research institutes, universities, corporate quality control departments and industrial sectors relating to petroleum, chemical engineering, electronic instruments, physics, chemistry, bio-engineering, medicine and health, life science, light industry and food, materials testing and chemical analysis etc.
Microprocessor based PID controls Temperature accuracy : ± 0.5ºC

Alarm: Temp, time

Circulating pump: Capacity 6.0 Ltr/ min

Temperature: Ambient + 5ºC- 100ºC
Microprocessor, PID circulating Pump

Over shoot temper: Alarm

Program cycle end.
Bio Gene Water bath (circulation) are double walled convection heated units.

Outer body of our Water bath (circulation) is constructed out of thick Stainless Steel sheet of SS 304 Grade steel.

Inside chamber of the unit is made of heavy gauge stainless steel sheet of grade ss-304.

The unit is provided with top opening cover, made of stainless steel with steel concentric rings.

The Water bath (circulation) is provided with one stainless steel Diffuser racks.
HEATING:
Indirect heating system is provided in our water bath, comprising of air heaters made of high grade Kanthal A-1 wires of suitable wattage..

The temperature is evenly distributed throughout the chamber through natural water convection mechanism, ensuring very good temperature sensitivity by High technology.
Circulation Pump :
The unit is fitted with circulation pump 15 liters/hr per Discharge Pressure 1.2 Bar, with contact parts of stainless steel brass.

Outlet Nozzle for circulation Liquid.

Microprocessor Based digital Temperature Controller.

TEMPERATURE RANGE:
Temperature range of our standard Water bath (circulation) models are 0ºC to 100ºC However we have the capacity to modify the same to suit the individual specialized requirements of our customers.

Temperature sensitivity
Temperature inside our water bath is controlled with a sensitivity of + 0.05°C.

FRONT PANEL
Front panel of our water bath comprises of on/off switches heating and mains indicator lamps and temperature controller.
Model

Temperature Range (℃)

Temperature Stability (℃)

Display Resolution (℃)

Inner Tank size (mm3)

DepTh (mm)

Pump Flow (L/min)

Top Opening Dimen (mm)

Drain

NW (kg)

BTI-5A

Ambient+5~95

±0.2

0.1/0.01

240×140×150

150

6/10

130×130

Yes

9

BTI-15

Ambient+5~100

±0.05

0.1/0.01

300×240×200

200

6/10

235×160

Yes

12.84

BTI-15A

Ambient+5~200

Water ±0.1
Oil ±0.2

0.1/0.01

300×240×200

200

6/10

235×160

Yes

12.84

BTI-20

Ambient+5~100

Water ±0.1
Oil ±0.2

0.1/0.01

500×300×150

150

6/10

310×280

Yes

15

BTI-20A

Ambient+ 5~100

Water ±0.1
Oil ±0.2

0.1/0.01

500×300×150

150

6/10

310×280

Yes

15

BTI-20B

Ambient+5~200

Water ±0.1
Oil ±0.2

0.1/0.01

500×300×150

150

6/10

310×280

Yes

20

BTI-15B

Ambient+5~200

Water ±0.1
Oil ±0.2

0.1/0.01

300×240×200

200

6/10

235×160

Yes

15

BTI-25

Ambient+5~100

±0.05

0.1/0.01

280×250×300

300

6/10

235×160

Yes

20

BTI-25A

Ambient+5~200

Water ±0.1
Oil ±0.2

0.1/0.01

280×250×300

300

6/10

235×160

Yes

25

BTI-30

Ambient+5~100

±0.05

0.1/0.01

400×330×230

230

6/10

310×280

Yes

21.62

BTI-30A

Ambient+5~200

Water ±0.1
Oil ±0.2

0.1/0.01

400×330×230

230

6/10

310×280

Yes

25.14

BTI-10

Ambient+5~100

±0.1

0.1/0.01

280×190×200

200

6

180×160

√

14

BTI-18 Q

Ambient+5~100

±0.05

0.1/0.01

320×275×200

200

6

250×230

√

14.5