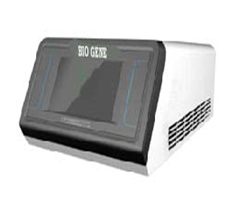 Bio Gene INVIVO Cell Electroporator. Establishes Conclusive insight in Special Site Cells When Direct Cells DNA delivery is AIMED in Plants and Animal.

Bio Gene Cell Porator can be used in multiple application of INVIVO DNA transfer to the cells Gene Therapy and Correction, Cell fusion, Cell Hybridization presently the most sort after know how among the Researches and Scientist community to improve and modify the Gene's in animals plants living being.
Applications
Features
Control
Construction
Specification
The Quest to improve the quality of life in the living Organisms. DNA Vaccines, Gene therapy. Tremendous thrust is being given by many countries and the research. Cell membrane permeability becomes the solution to improve the DNA molecules count into the cells. This Bio Gene INVIVO Cell Porator have the easiest solution of Pulsed Electric field based Electroporation system for Micro Organism, Animal Medico Application and Bio Engineering Gene Transformation.
10 kH2- 2mH2 Frequency A.C.

Cell fusion at 600r

Number of pulse.

0-9 Nos

Protoplast and cell fusion of Plants, Animal and Micro Organisms

Dipole Cell polarization

Pulse voltage 0-48 V

Pulse frequency 30 KH2-3MH2

Field intensity 6000 v/cm
Bio Gene Cell Electroporator has a Specially Designed Fusion chamber which is the basic part of main unit.

Digital controls with HMI interface and Integrated Circuits, with Digital Display.

The fusion controller is direct current based generator producer square waves.

The Electoporator comes with set of accessories and Electrodes
AC Electric Field Parameters

Bunchy Pulse voltage

Peak-peak value 0-48 V (0-±24V), Adjustable continuously

Bunchy Pulse Frequency

30 KHz-3 MHz adjustable

AC Field Parameters

Square Wave fusion pulse voltage

1-600V adjustable (electrode distance) 10 mm Electric Voltage field reach 6000 V/cm

Square Wave fusion Pulse range

1 us-5 ms selective 10 grades

With fusion flat electrode

Polar distance 1 mm, optional electrode in the table below

Net weight

9.22 Kg

Packing size

450*370*290 mm