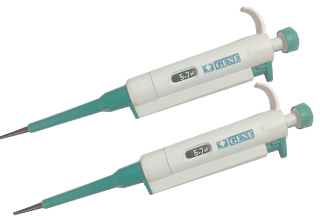 BioGene in an eminent manufacturer, supplier and exporter of world class Micropipette. Our technologically advanced range of products is capable of providing even the most minute findings and observations to the user.

We are accredited with ISO 9001, CE and EU certification.
Cover ranges from <2 µl to1000 µl.
Applications
Features
Control
Construction
Specification
BioGene Digital pipettes are small friendly apparatus which help the users in hospitals, health centres, pathological labs, research centres.

Where master volume of samples are needed to be processed for various identification, multiplication or confirmation of viruses, diseases in the samples are to be Determined .

Easy to use volume control which state of art suction unit makes BioGene digital Variable pipettes a better solution.
Bio Gene Adjustable mechanical repetitive pipette.

Bio Gene Pipettes works on positive air displacement principle

Number of channels 01 Nos.

Bio Gene Pipettes Handle and adapter for various tip sizes.

Easily slip fit conical seat for easy fitment of micro tips of different volumes.

Dispensing range <2 μl to ≥ 1000 μl

Ejectors smooth ejector for removing micro tips with thumb presser.

Beautifully color coded for easy volume identification.

Beautiful color coded for easy volume identification (Optional).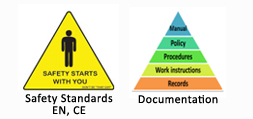 ISO 9001
Accuracy Din, CE. EN – ISO 8655
Confirm to: ISO8665, DIN 12650
GLC Guidelines, ISO 9001, ISO 13485
Easy locking system volume setting digital

Bio Gene VARIABLE Single channel Pipette
Volume: <2 ≥ 1000ul
Bio Gene Pipettes are manufactured of high grade polypropylene.

UV and chemical resistant.

Individual Calibration report.

Does not require recalibration after every autoclaving as require by other so called Autoclavable Pipettes.

Bio Gene Pipettes can be adjusted to second decimal place.

Bio Gene Multichannel Pipettes Ergonomic design of the handle.

Bio Gene Multichannel Pipettes Light one handed operation.

Click Stop digital system ensures no unwanted volume alterations during pipetting.

Two Step plunger operations allow reverse Pipetting technique useful for pipetting certain liquids.

Bio Gene VARIABLE Single channel Pipette
Volume: <2 ≥ 1000 μl
Model No.

Volume Setting

Volume range (µl)

Increments (µl)

BTI-BDVP-2

DIGITAL SETTING

0.2

0.002

BTI-BDVP-10

0.5~10

0.01

BTI-BDVP-20

2~20

0.02

BTI-BDVP-100

10~100

0.1

BTI-BDVP-200

20~200

0.2

BTI-BDVP-1000

100~1000

1

BTI-BDVP-5000

1000~5000

10

BTI-BDVP-10 ml

1000~10000

10