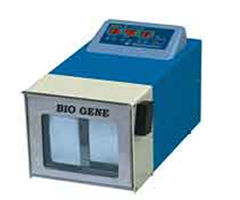 Bio Gene Tissue paddle Blenders L 90 is a multi stage programmable machine capable to stores 10 cycles with Automatic adjustable slap speed, actual rattling strokes display with stroke distance programming between 0-5 mm is possible Bio Gene Tissue Paddle Homogenizer also has an auto stop and anti trap function which makes the equipment better utility product fit for tissue application
Applications
Features
Control
Construction
Specification
This Lab Blender is Paddle blender which used for solid and semisolid samples by applying pressure to samples within sterile, disposable bags.
Auto stop

Anti trap function

Soft Start

Programmable Adjustable Slap board

Stroke Distance adjustment.

Microprocessor based

Large LCD Display

Rattling speed 3-12/ sec

10 Program storage

Time 0.1-99 min

Start: Soft, Gentle
Bio Gene Tissue Paddle Blender L 90 is designed for easy use removable windows and adjustable slap board, toughened glass door are some uniqueness. Rattling chamber is constructed out of thick stainless steel with adjustable speed and stroke length and time controls. Locking device to clamp the sample holder along with sound a betting chamber makes the machine noise less where tissue from plant animal or microorganism could be homogenized, grinded to the desired results.
Main Technical Parameters:
Rattling Time:0.1~99 minutes(to 0.1minutes step)or 6~5940 seconds

Rattling speed:3~12 times/sec(to 0.1 times/second step)

Display the actual rattling number, the system automatically adjusts the slap speed

Multi-stage programming can be designed: parametric groups can be set according to one's wishes.

Parameter storage:More than 10 groups of multi-stage programming parameters are stored

Effective Volume:3~400ml

Slap Box:Stainless steel

Supply:220VAC/50HZ

Weight:18.5kg

Maximum Power:300W

Sterile bag:17x30cm

Display:LCD

Rattling Spacing:0~5mm adjustable

Soft-start mode:Gentle start

Dimensions:420x245x340mm

Pause Function: To ensure sample security with auto-stop anti-trap feature