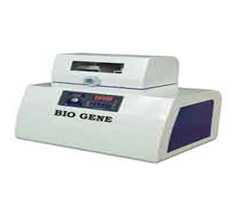 Bio Gene BTI/HTTG/291 High Throughput tissue Grinder is a high production, efficient machine capable to under take large volume of Multitasking, Tissue grinding mixing, Homogenizing whether Wet or Dry samples of 2 x 96 pairs of samples in three minutes, at 3-30 strokes/sec. Plant tissues of Rice Maize wheat Groundnut of animal tissues of miracles, metes tine heart, liver lung bones skin, bacteria yeast microbes can be grinded with much easy with SiO2 or ZrO2 or nucleic Acid extraction as well.
Applications
Features
Control
Construction
Specification
Interlock device, to hold grinding jars adapters,

low-temperature mill by liquid N2 for 1-2 minutes.

No cross-contamination due to sealed tubes.

Gauranted repeat results.

Adjustable speed controls
Microprocessor based

Timer: 1-99 minutes

Frequency: 3-30 times / sec 48, 64, 72, 192 wells

0.2 m – 5 ml capacity sample volume.

Seed: Adjustable
Bio Gene High Throughput tissue Grinder mixer, homogenizer is built to undertake fast results of 2 x 96 pairs within 30 minutes at 3-30 times/sec frequency. The equipment has built in interlocking device to hold the grinding jors from falling. This beautiful equipment under takes liquid N2 dipped samples with fast homogenizing.

Extraction of Neucleic acid through put enhances the quality of desired results.

Sound proof, chamber with non skid base helps in smooth and trouble free operation.
Grinding Frequency: 3-30times/sec

Timing: 1-99 minutes

Rated: 375W

Dimensions: L520×W365×H505 mm

Supplied steel balls
Accessories

(i) 0.2-0.5ml/192 holes,
(ii) 1ml/72 holes,
(iii) 2ml/64 holes
(iv) 5ml/48 holes