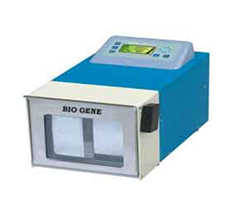 Germfree Microbiological Blender, also known as flap homogenizer, is widely used in the homogenization treatment for animal tissue and biological samples, also used for the following testing areas in food, pharmaceutical, cosmetics, clinics molecule, toxin and bacteria, particularly suitable for preparation of micro-organism testing samples.
Applications
Features
Control
Construction
Specification
This lab blender is paddle blender which used for solid and semisolid samples by applying pressure to samples within sterile, disposable bags.
Soft homogenization, pollution free, nil temperature-rise, no sterilizing treatment is desired.

Fast, accurate and Repeatable.



In compliance with : ISO 7218

Designed and made to suit International Standards.

ISO 9001 V2008, CE, WEEE 2002/96/EC, RoHS

2002/95/EC standards
The device is made stainless steel and can effectively separate the surface of solid samples from a sample with germs inside.

The samples are packed in germfree disposable homogenization bags, and thus is in no contact with any parts of the instrument.

Bio Gene Microbiological Blender is also suitable for homogenizing tumor tissues such as liver, intestines cancer, breast cancer not only can to obtain large numbers of single cells ( 2 x 105 within 2 minutes ) but also crush tissues cells such as liver cells more gently.

The time for homogenization could be prolonged when necessary, to achieve a soft broken samples.

Compact and ergonomic.

In compliance with : ISO 7218

Designed and made to suit International Standards.

ISO 9001 V2008, CE, WEEE 2002/96/EC, RoHS

2002/95/EC standards
Rattling Time:0.1~99 minutes(to 0.1minutes step)or 6~5940 seconds

Rattling speed:3~12 times/sec(to 0.1 times/second step)

Display the actual rattling number, the system automatically adjusts the slap speed

Multi-stage programming can be designed: parametric groups can be set according to one's wishes.

Parameter storage:More than 10 groups of multi-stage programming parameters are stored

Effective Volume:3~400ml

Slap Box:Stainless steel

Supply:220VAC/50HZ

Weight:18.5kg

Maximum Power:500W

Sterile bag:17x30cm

Display:LCD

Rattling Spacing:0~5mm adjustable

Soft-start mode:Gentle start

Dimensions:420x245x340mm

Pause Function:To ensure sample security

With auto-stop anti-trap feature

Removable windows and adjustable slap board, toughened glass security door

Sample chamber temperature

Temperature:Ambient temperature -50℃

Setting Range:0℃~60℃,Display the temperature in the box

Disinfection function:Light disinfection in rattling box,The working chamber can be pre-sterilized. Single-disinfection cycle 5min,disinfection wavelength 253.7nm)