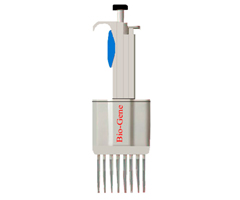 Bio Gene Digital Multi Channel Pipettes are simple accurate and economical solution for multi samples amplification test etc available in four Eight, Twelve position with precise accuracy.
Applications
Features
Control
Construction
Specification
The Bio Gene Digital Multi Channel Pipettes Manifold Can be freely rotated against the handle to work in a relaxed position,yet always at an optimum angle towards the microliter plate.The special nose cone geometry permits the use of most common pipette tips,and provides a firm, Parallel fit.Good design makes effortless tip ejection even easier.
Individual Calibration report.

Calibration as per the standard of EN ISO 8655.

Recalibration not required.

Click Stop digital system.

Volume alterations during pipetting possible.

Two Step plunger operations allow reverse pipetting.

Beautifully color coded
Bio Gene Multi Channel Pipettes are having smart soft finger-grip of Thermoplastic Elastomeric (TPE) ensuring.

Minimum fatigue of hands & fingers.

Bio Gene Multichannel Pipettes automatically return to zero position when plunger is released.

Reduced thumb stress.

Minimum transfer of body heat to the pipette resulting in high accuracy even on Continuous use.

Consistent sample loading.

Bio Gene Multichannel Pipettes have con be set to desired volume

Bio Gene Multichannel Pipettes operate we easy for suction, aspiration homogenization.

Bio Gene Multichannel Pipettes have provision for removing individual channel to adjust the distance between channels, manually . (tips)

Easy removable & fully autoclavable manifold.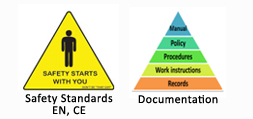 Confirms to EN ISO 8655

ISO, 9001, CE, DIN Standards

360ºC Manifold Rotation EJECTOR soft Touch
Bio Gene provide thermal, mechanical and chemical stability, the pipette manufactured with the combination of Fortan and PEEK material.

Bio Gene Multichannel Pipettes spring loaded tip cone that provide maximum tightness with minimal attachment force.

Light weight electronic Pipette.

Compatible with most types of tips.

Soft force tip loading and ejection.

One hand tip ejection.

Leak free sealing of tip.

Manifold can rotate 360°C for easy right or left hand operation.

Bio Gene Multichannel Pipettes provision to autoclave the lower parts.
Model No.: BTI-MCP-20
1 μl –20 μl
Channel: 4,8,12

Model No.: BTI-MCP-200
10 μl –200 μl
Channel: 4,8,12